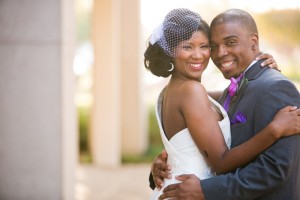 Dallas, TX
For our chic bride Adryan and her fun-loving groom Kortney, we created a stylish and festive occasion. A contemporary fuchsia, purple, and black color scheme perfectly complemented Adryan's fashionable and modern Romona Keveza dress. Guests received the first preview of things to come with the gorgeous invitations we created through our line Significantly Said: Invitations by Significant Events of Texas. Our ceremony was a mixture of Jewish and Buddhist traditions out of respect for the bride and groom's religions. It was held under a beautiful white draped chuppah with a custom addition of suspended glass globes filled with crystals and flanked with modern purple & fuchsia floral. Our reception space displayed the color scheme further through the use of black linens and chairs, purple & fuchsia floral, and purple uplighting. Each table was named after a movie featuring either Audrey Hepburn or James Cagney – the couple's favorites! We also created custom charger labels which added a pop of color to the silver chargers and incorporate a quote from Hepburn and Cagney. After the plated dinner, guests got to sample delicious desserts from our dessert buffet, including the bride's favorite of cheesecake, as well as the Teenage Mutant Ninja Turtle groom's cake which Kortney absolutely loved! After a great party, we sent Adryan & Kortney off with a glow stick send off! It was a fabulous evening!
Adryan and Kortney's Wedding featured in The Knot magazine
Adryan and Kortney from Lynn Films on Vimeo.
Some compliments for Meredith from Adryan & Kortney from Lynn Films on Vimeo.
Photographer Allison Davis Photography
Testimonial
I knew from the first moment we met my hair & make-up artist, that she and I would get along and she got my ideas from jump! I loved the way she experimented with the different shades of pinks and purples to highlight my eyes and my lips, I will be using her for all my big events coming up!….Everyone loved the venue! I will always remember it as the place that gave me an amazing wedding! And everyone loved the food, the bartender; everything was just awesome about this place! I just wished I would have taken some of that food home, it was the best wedding food I'd ever had….Oh my gosh, how did you find this awesome DJ? Every single song that was played was one of my favorites! I loved him, and we plan on using him at every single event that we have from now until forever!….The only thing Kortney wanted was that Ninja Turtle cake and he got it thanks to our cake designer. Everyone loved it and, more than anything, Kortney loved it and that was all that mattered! Plus did you see all the awesome other goodies she prepared?….Hands down the cheesecakes were the best desserts there, and I'm so happy that Meredith understood that I really don't care for cake but cheesecake is my favorite and she found the best cheesecakes ever for me!….How can you not love our photographers? I absolutely loved all of my pictures, and they were so easy to work with!….My videographer is pretty awesome and we got way more than we paid for, plus he got our vibe! He was fun, never in the way, and our film looks so amazing! I will definitely be using him again!….Our officiant made things so simple for us, especially incorporating all of my ideas of my Jewish faith and Kortney's Buddhist traditions. She was so understanding, I really loved her!…One of the highlights of that night was my chuppah! The company was very easy to work with and I loved the draping!….I cannot say enough about Meredith and her staff; I've never felt so comfortable and just very well listened to. When we first started planning our wedding, all I kept saying was, "I don't want to spend ALL of my time planning this wedding. Especially since I am a full time mom, full time worker, and a full time grad student!" When we met with Meredith, everything clicked! When I told her my ideas, no matter how crazy they were, she encouraged me and, if the idea was bad, she said so and that's what I wanted out of a wedding planner. I didn't want someone who was going to just agree with me on everything but rather someone who brings their expertise to the table and can tell me, "No, that's not really going to work." I'm using her again and again for our vow renewals and my best friend's wedding. She made everything so easy! Like when everyone was wondering if I needed this or that, I would just say, "Nope! Meredith is doing it." When I had a question, she answered right away. I couldn't have asked for a better team for planning one of the best days of my life!
Adryan Maney-Horton
Bride