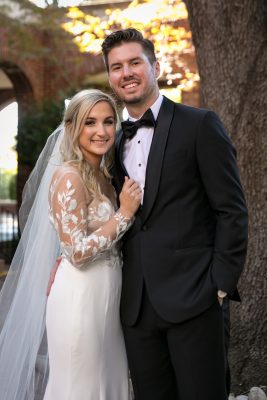 Dallas, TX
Emily and Jake held a classic and beautiful wedding in the heart of Dallas. Guests received their lovely invitations designed by Significantly Said: Invitations by Significant Events, letting them know about the wonderful day to come. Bridesmaids wore varied black gowns and carried bouquets of whites and greens. Emily wore a chic lace and sheer gown and carried a bouquet of a similar design. The ceremony was held in a grand Dallas church, and a string quartet played as the wedding party processed. The reception followed in a grand downtown Dallas ballroom with wall to wall windows and elegant chandeliers. Tables were decorated with black linens and modern gold chargers. White florals with touches of sage green were the perfect centerpieces. Following dinner at our delicious food stations, Emily and Jake cut their pretty wedding cake. Guests had a blast dancing to the DJ for the rest of the night before the newlyweds' big send-off!
Photographer Carter Rose Weddings
Testimonials
"I thought everyone's hair and makeup looked awesome! First time I have thought that at a wedding I've been in….. Our photographer was awesome!....The ceremony music was lovely!... Loved my DJ and got lots of compliments on him as well!.... My florist did an amazing job and we were very happy with the outcome!... The cake was really good!....Meredith!!! Everything was SO perfect. We were truly blown away with everything and can't thank you and your team enough for all of your hard work!!!"
Emily Sherrington
Bride
Our hair and makeup team were so good!! Everybody was very happy with their work!.... I thought the flowers were beautiful and exactly what we asked for…. Our photographer couldn't have been more patient or nice to work with! ….Meredith, you went above and beyond for us last night! Can never thank you enough for all you did for us over the last year of planning. All our questions were responded to very quickly and communication was clear and helpful. The execution was FLAWLESS!!! We couldn't have been more thrilled with the way it all turned out! I got compliments on the venue, the food, and the music and MANY on what a great job you did. Fan for life!!
Amy Westbrook
Mother of the Bride