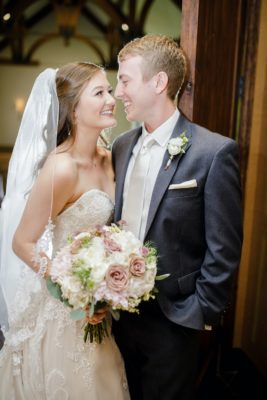 Grapevine, TX
Lindsey & Tanner's summer wedding was held at a gorgeous rustic venue. Guests first received a lovely invitation welcoming them to attend the wedding created by Significantly Said: Invitations By Significant Events. Bridesmaids wore orchid purple gowns and carried bouquets of loose greenery with ivory and mauve. Lindsey looked beautiful in grand bridal gown carrying her bouquet of mauve, ivory, and greenery. The ceremony was held in the venue's rustic chapel with vaulted ceilings and loads of natural light. A marble table covered with lush florals and lanterns added a decorative touch to the altar. Guests then moved in the beautiful ballroom for cocktails and hors d'oeurves, as the newlyweds took photos all around the property. The ballroom was decorated with ivory linens, fruitwood chiavari chairs, lovely florals, and warm uplighting. After a delicious buffet dinner, guests enjoyed wedding cake followed by a surprise gourmet ice cream sandwich food truck for fun late night snack. Our awesome DJ kept the dance floor packed throughout the night until our sparkler send-off.
Photographer John Christopher Photography
Testimonial
I loved my hair and makeup services! All of my bridesmaids and I loved our hair and makeup and they were very professional and friendly. Holly was amazing and I highly recommend them to anyone needing hair and makeup for an amazing price….All of my guests loved my venue! It was so pretty without having to drive too far from home. Everyone that worked there was friendly and I highly recommend this location for anyone who wants a venue with a gorgeous chapel and reception…. My florist was amazing! I needed a lot of assistance with floral arrangements and she made it so easy on me. Everything turned out perfect on the day of and I am so happy I chose her for my wedding!..... My DJ was such a hit at the wedding! I could not ask for more out of him because he made my wedding so much fun. Every song was perfect and I received so many compliments about him! Easily one of the best decisions I made on my wedding day…. The cake was awesome. Everyone loved all of the different flavors….. Our ice cream truck was a perfect addition to my wedding! Getting married on the hottest day of the year was easily brighten by having amazing ice cream sandwiches at the end of the night. All of my guests loved them and they were so friendly!.... My photography was one of the best decisions we made early on in wedding planning. He was perfect from the engagement photos to the day of the wedding. My favorite part about having him as our photographer for our wedding was not only is he an Aggie (whoop!), but he was so creative and captured photos I will forever treasure. His calm demeanor was the cherry on top because you almost forgot that someone was there capturing your happiest day of your life. I highly recommend him to anyone needing a wedding photographer!.... Our transportation was perfect for the ride home! Very professional and exactly how we wanted to end the night……My invitations were exactly the design I wanted! Meredith was amazing and even gave me several copies to see in person before ordering them. I was super picky about the color and Meredith was patient with me and perfected it….Everything by Meredith was perfect! I don't know what I would have done without her through this whole process. Meredith made my day so easy and stress free! I did not have to worry about anything on the day of and I was able to enjoy my wedding because of her!
Lindsey Nordeen,
Bride