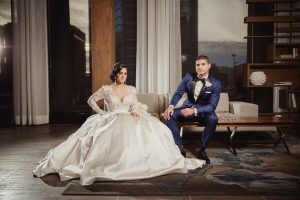 Dallas, TX
Mahsh & Wander's winter wedding was a modern and sophisticated fusion celebration in the heart of downtown Dallas. Guests received their first peek of the elegant wedding to come with the custom designed midnight blue and ivory invitation with gold sparkly accents by Significantly Said: Invitations by Significant Events. Mahsh wore a stunningly regal ball gown and carried a lovely bouquet in shades of white and blush with cascading orchids. Wander looked equally stylish in his custom midnight blue tux. Bridesmaids wore various styles of midnight blue dresses and carried similar bouquets to Mahsh's which were so pretty. The ceremony room was decorated in champagne and ivory draping and a gold bejeweled stage skirt beneath the elaborate and ornately beautiful Sofreh Aghd for the Persian ceremony, a nod to Mahsh's culture. After the traditional Persian elements of the ceremony, Mahsh & Wander exchanged vows and rings in a more Western style of ceremony. Following ceremony, guests proceeded to the foyer for cocktail hour decorated with gold accents and white tufted bar facades. Next, guests proceeded up to the ballroom on the top floor of the hotel with crystal chandeliered ceilings and wall-to-wall windows with views. Mahsh chose three different linens in mixed patterns of taupes, silvers, and golds. The head table was particularly stunning including a midnight blue lamour linen and custom made gold sparkle overlay. Floral was of varying sizes in shades of blush and ivory with gold and crystal detailing. A custom white and gold dance floor formed the centerpiece of the room. A delicious multi-course plated meal was served for dinner. Mahsh's wedding cake was unique and beautiful with floral rosettes with gold edging and blue and white tiers. Wander's cake featured sculptured elements of his Dominican background and profession as a salsa dancer. A bevy of Persian desserts was also offered for our guests. The dance floor was a blast with both a bilingual Spanish speaking DJ spinning Western songs and Latin music and a Persian DJ spinning South Asian beats. Such a fun evening joining two cultures in love and celebration!
This wedding was featured in Inside Weddings
Photographer Shaun Menary Photography
Testimonial
My hair & make-up artist and her entire staff were amazing! Got through our large group with ease and made the entire experience so calm. They were able to make us all look fabulous!! They also provided suggestions when asked and it always turned out great!....Everything was exactly the way it needed to be at our venue from my perspective. The staff was amazing and very attentive….. The floral was stunning!!! The staff was also great and worked with us on any design changes that we needed to make at any point…. All cake appointments were great! The tastings were amazing! The design was beyond words! The groom's cake was more than we could have expected as well! Definitely worth it!... Our photographers are awesome!! They really give you multiple sides to photography. They are able to allow you to be in the moment but when guidance is needed, provide that as well….. The videography consult was great! The day of was great as well. Never felt awkward or as if they were in the way…. The lighting was beautiful!! The room was glowing and it really added the elements I wanted when it came to design and lighting….. Everything with the décor company was great as well! The options were endless and very happy with the result…. Both DJs were great! They both played to make the event a success! Everyone was dancing all night long!.... Wow! Our officiant is the man! He is truly born to do this. He makes you feel extremely comfortable and is able to make your ceremony truly special for you and your partner. He is organic in his style, if you allow him to be, and this is what made our ceremony even that more special!... Linens were gorgeous! We had several table designs and all were unique but worked so well together. The staff was able to help with options to make sure my vision was met but make sure we didn't go crazy over budget!... Meredith and Abby made invitations super easy! Any change…I mean ANY (the smallest detail), they adjusted to make us happy….Meredith was the quickest to respond to any and everything we asked/needed. Not only was she efficient, she was so easy to work with. She made our planning process and wedding the one of the most amazing days ever! If you are able to hire a planner/event planning company – this is the way to go! They will not disappoint. Anything we needed, it was taken care of and within minutes!!! They are a team and well worth every dollar!
Mahsh Pourjavad-Rosario
Bride