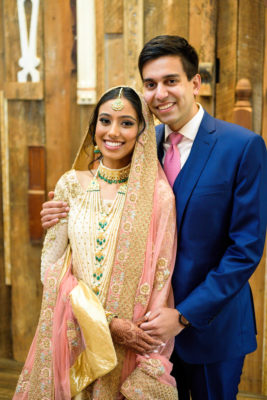 Ft. Worth & Denton, TX
Naureen & Amir held a two day celebration of their South Asian culture for their wedding weekend. The first night was their mehndi which was held in a historic train station. The room was adorned with vibrant colors of fuchsia, gold, and shades of green with gold lanterns and floral atop each table. The backdrop for Naureen & Amir's setee included fuchsia and gold drape and jewel toned floral accents. The couple entered in the traditional, ceremonial way where guests met them with gifts and food. Guests enjoyed a buffet dinner followed by dancing. We ended the night with a confetti explosion on the dance floor!
Day 2 was held in an industrial but elegant historic venue in another part of town. Naureen choose a sage green, blush, and gold color palette that looked so lovely. Naureen carried a bohemian bouquet of cascading greens and pinks. The Muslim ceremony was held in an industrial style ballroom with Edison bulb chandeliers, ghost chairs, and brick walls to which we added climbing greenery. The ballroom was ample for our 400 person guest count and featured long tables covered in candles and greenery with soft candlelight uplighting around the room. A South Asian buffet dinner was served followed by our modern and delicious wedding cake. Guests enjoyed dancing to the music of the DJ before our streamer send off for the newlyweds!
Photographer Jeremy Minnerick Photography
Testimonial
My hair & makeup artists were so amazing! Everyone was happy with how they looked! Their team ispure talent. They'll look at your face and they'll figure out what looks best on you. Investing in hair and make-up was a high priority of mine and this was the team to go with. We were tough clients - we showed up late, we were disorganized, but the team was still so amazingly kind and patient with us. From the bottom of my heart, thank you to them!...My caterers did great. I was really grateful that they were just pure professionals who were determined to do a fantastic job. Everyone enjoyed the food at both events which is the most important thing for Southasian Weddings. I will go with all these vendors again in a heartbeat….. My décor looked BEAUTIFUL and I am eternally grateful to my decorators for being a part of my wedding…. My cake was a straight forward wedding white and chocolate cake and it was FANTASTIC! …. My DJ came in with lighting and DJing services and they did a great job. Our DJ was a giant sweetheart of a human and I know he did his best. He was really receptive to our feedback and tried his very hardest to make Amir and I happy…. Everyone loved our photographer! He was this comfortable presence that we were all so happy to have around. He is really talented and I think he really values capturing people in their natural essence…..Meredith recommended wedding ideas that I would have literally never thought of. She is very skilled in dealing with people who are anxious about making decisions. Meredith patiently walked me through budgets, checklists, and vendor selection. Meredith was still so amazingly responsive when I escalated issues to her, even when I would text her after midnight which, in my opinion, was way beyond scope! I also just wanted to give a shout out to Meredith for finding wedding streamer poppers literally the day before my wedding because my original shipment got cancelled. Magic, pure magic! Meredith and her assistant were running around on the day of my wedding and henna night to make sure that everything went smoothly, and it did. Everything came together just as Meredith said it would and I honestly wouldn't change a thing about how it all went. From the Mehndhi night decor, food, and timeline to my wedding exit, it was all a dream come true! I forgot huge things like setting up my wedding songs on my phone or picking ceremony music for the grooms side and Meredith just took care of all of it for me. I can't thank her enough!
Naureen, Bride