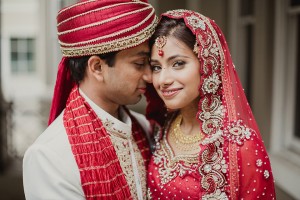 Dallas & Ft. Worth, TX
After being together for over a decade, the wedding weekend of Saba & Syed was truly a joyous and spectacular occasion. Saba is of Pakistani descent and Sayed is of Bengali descent, so their Desi wedding was a multi-day affair. Guests got their first preview of the celebrations through the stunning ombre, platinum, and gold invitations created by Significantly Said: Invitations by Significant Events of Texas. The Mehndi was held at a historic Art Deco building in Ft. Worth where the couple was born and raised. A gorgeous, colorful palette of gold, fuchsia, orange, and yellow decorated the room for 250 guests. Guests sat at tables covered in elegant gold linens and eclectic centerpieces that were a mix of floral, Moroccan style lanterns, and cube vases created by Significant Events that were embellished with Sufi poetry and artwork. Saba & Sayed sat atop a canopied stage where they received gifts from their family and friends. After a delicious buffet dinner of cultural food, the sun went down really highlighting the fantastic lighting we had in place in the room. The ornate Art Deco ceiling was washed in light to accentuate the architecture, controlled uplighting surrounded the room, and custom graphic gobos created by Significantly Said were displayed on wall panels. Friends and family then performed various dances and musical performances before the DJ took over and got the crowd dancing until the end of the night. It was such a fun evening!
The following day was the wedding ceremony and reception held in Dallas. Saba and Sayed looked stunning in their traditional crimson and gold attire. Bridesmaids and Saba's sisters carried beautiful bouquets in shades of ivory, coral, and fuchsia. Saba's bouquet was a lush mixture of ivories and blush tones. The ceremony room was truly breathtaking. A chiffon draped backdrop was displayed behind the stage with an incredible ombre lighting design illuminating it. Saba & Sayed sat on the elegant furniture during their lovely Muslim ceremony. Hors d'ourves were then served in the foyer as guests picked up their ombre escort cards created by Significantly Said. Then the ballroom doors were opened to reveal a spectacular room set for 380 guests. Tables featured a mix of metallics with gold chairs next to tables covered with silver shantung linens and gold chargers. Centerpieces were various styles of ivory, fuchsia, and coral with both gold and silver vases. The head table was adorned with a multitude of candles as well as incredible gold and silver patterned chargers. Yummy dinner stations were followed by speeches by Saba & Sayed's friends and family as well as a video that had been created for them that was so much fun to watch. Their cake was a gorgeous creation of ivories, golds, and silvers incorporating elements both from Saba's gown and their head table chargers. Everyone had a blast dancing before the send-off. It was truly a beautiful weekend celebrating this wonderful couple.
Saba & Sayed's Wedding in DWeddings Magazine!
Saba & Sayed's Mehndi and Wedding featured on the Special Events Magazine Site!
Significant Events of Texas has been published on Junebug Weddings in Saba and Sayed's Real Wedding Feature!
Saba and Sayed's Wedding Featured in Special Events Magazine!
Photographer Shaun Menary Photography
Testimonials
"My hair and make up artist was awesome, awesome, awesome. She came through in a pinch and she performed beautifully. I received nothing but compliments the day of the wedding and felt very beautiful that day as did all the other girls who had their hair and make-up done. She went above and beyond for us and even offered me hairspray, lip colors, and a blotting powder to keep after the wedding. She is simply fabulous and I was lucky to have her as my make-up artist…..Many, many people found the Mehndi venue to be absolutely stunning. They had never seen a venue like it before. The art deco style worked incredibly well with the lighting and Sufi-inspired decor. I highly recommend it for future events, especially because it was one of the most affordable venues for its value…..For Desi weddings, our ceremony and reception venue is a unique and exquisite venue. Our friends and family loved the experience of being inside a gorgeous historic mansion. The food that day was great and we heard nothing but compliments about the menu. The staff was sweet to work with, and we enjoyed working with them. Overall, it was a great experience.….Our florist was great. I received SEVERAL compliments about the flowers—something I never expected people to notice too much. They were perfect that day. She was responsive, professional, and did a great job. Overall, very happy with the result….Our décor company did a superb job. The Mehndi was one of the most beautiful events I've ever been to, especially because their work blended so seamlessly with the lighting company. I thought the décor was expensive before the wedding, but after seeing it and after seeing our guests reaction to it, I think it was worth every penny.….I was very pleased with the chargers. They were lovely and helped fill up our tables. They were also surprisingly affordable, and the rental company was willing to accommodate several of our last minute orders. Overall, very happy we ordered with them….Our DJ was another vendor that I thought was expensive before the wedding, but then worth every penny after it was over. I highly recommend him for any future events. He did an incredible job feeling the crowd and getting them to dance, even with a conservative Muslim audience. I also thought he did a great job adjusting to our disorderly schedule and accommodating our numerous requests. He was good at controlling our crowd. I was also very impressed that he could get everyone to pay attention for the second half of the wedding program. Overall, very happy with him….Our cake designer did an amazing job with the cake. It was delicious and beautiful. We received many compliments about our gorgeous wedding cake long after the last slice was eaten….Our photographer is amazing. He is so fun and energetic and his wife/assistant is delightful! We have seen their past work and knew they would go above and beyond to get a great shot. At one point, my friends commented that he had moved into acrobatic positions just to get the perfect angle. He brought a great team to the wedding and I'm in love with the photos they produced!….
Lighting was the unsung hero of the night. It transformed the evening, but it didn't take all the attention. The lighting company did an amazing job, just as Meredith had promised they would….I was very happy with the linens and thought they were lovely….I was very happy with the Photo Booth. Friends and family had a blast with the photo station. I thought the photo station attendant was a nice touch. I highly recommend this photo station for any future events….Callie was great and the invitations were fabulous! They were unique, beautiful, and were the perfect memento from the wedding. The save the dates were gorgeous as well! Callie and Meredith worked quickly to get the invitations taken care of and helped me meet some very tough deadlines. The invitations really were absolutely lovely!….Meredith was fantastic. Hands down, nothing more, nothing less. She was responsive, energetic, and brought tons of ideas to the table. She was also always willing to incorporate any ideas we had and make them beautiful. Meredith had a vision for the event and we trusted her to execute it exactly as planned. She did so, and went above and beyond for us. There may have been issues that day, but my husband and I certainly didn't know about them because Meredith took care of everything so that we could enjoy our special day. Getting a planner was the best investment for this wedding. Not only did we have a wedding that our friends and family now call the "best, most fun, and most beautiful wedding" they have ever been to, we also made an amazing friend throughout this process. The wedding weekend went perfectly, and it was because of Meredith's exceptional ability to plan and coordinate events. It went amazingly well and I couldn't have asked for anything better. I sincerely appreciate her assistants' help the night of the wedding as well. Among the many examples of how Significant Events came through for us: My husband and I were celebrating with our friends after the wedding when my husband got a call from his dad asking if we picked up the bag with all of our wedding cards. Sayed and I didn't remember seeing this bag in our hotel room, so (in complete and absolute panic) we called Meredith who went to our hotel, got permission to enter our hotel room, and found the bag of gifts that we had apparently brought into our room without realizing we had. Needless to say, it was very handy to have someone like Meredith around. In short, Significant Events helped make my wedding one of the best nights of my life. Thank you, Meredith! I don't know how we got so lucky to get you as our wedding planner. We love you!"
Saba Syed
Bride
"We have no words to express our gratitude to you for all you have done for this wedding. We will remember this forever."
Mohammed & Sharmina Badruzzaman
Parents of the Groom