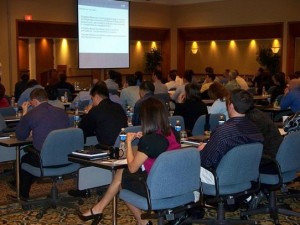 Grapevine, TX
Significant Events was thrilled to be working with one of the nation's largest construction companies on their annual Technology Services Conference held in Grapevine at the Hilton DFW Lakes Hotel & Conference Center. With the Technology Services team spread across the country, they knew they needed someone reliable here in Dallas to make the 3 day conference run smoothly and efficiently so they could focus on training their employees on new software and not organizing the event itself. Significant Events secured the fantastic hotel, arranged the Audio Visual needs, planned the catering for the guests, prepared the door prizes, arranged the transportation to and from the airport, prepared welcome packets and agendas, and coordinated the nightly entertainment. On the first night guests were treated to a cocktail reception followed by a gourmet dinner, and on the second night another cocktail reception was followed by a formal plated dinner and a hilarious live show from Ad-Libs Improvisational Comedy Troupe. During the conference, the employees knew that they could rely on us to troubleshoot and resolve any issues that arose, adhere to the logistical schedule that had been created, and manage last minute changes with ease. The conference was a great success!
Photographer JBeck Photography
Testimonials
It's easy to get up here and talk to everyone during our presentations, but the real work of these conferences goes on behind the scenes and that's why I want to thank Meredith and CeCe of Significant Events for doing such a great job putting this all together. The hotel was wonderful, the food was delicious, and the entertainment was hilarious! Thanks for all of your hard work. You did a great job!
Micky Doner
Chief Information Officer
I've been coming to this conference for 8 years and this is definitely the best one I've ever been to. You did an excellent job!
John Mastrianni
Technology Services