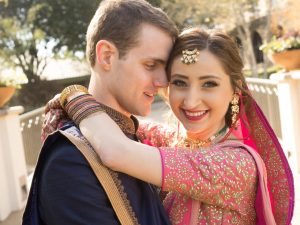 Dallas, TX
Vinati and Ben's fusion wedding was a lively, full day affair! The day began with a festive Baraat, as guests surrounded Ben and a dhol player drummed along with fun music that transported Ben to be greeted by Vinati's parents in traditional Indian custom. Ben and the guests then entered the ceremony room where the stage was set in beautiful colors of fuchsia, orange, and gold for the Hindu ceremony. Vinati was radiant in her fuchsia and gold gown as she entered the ceremony with a floral canopy overhead. Following the traditional ceremony, guests moved into a pavilion ballroom for a delicious Indian buffet dinner. Vinati and Ben then changed into more western style attire for the evening event: a reception held in a beautiful downtown Dallas ballroom. The ballroom was decorated with ivory linens, chiavari chairs, fuchsia and green floral centerpieces, and soft pink uplighting. Guests enjoyed a tasty American dinner as well as decorative and tasty bundt cakes for dessert. A performance from Ben's university's western dance team delighted the guests during dinner. The DJ packed the dance floor for the rest of the evening before the newlyweds' wonderful downtown send-off.
Photographer Joseph Mark Photography
Testimonial
My hair and makeup artist does a great job and is very talented. She responded well when I needed to change hairstyles. Her price is well worth it….We received exceptional photos. Our photographers were very easy to work with day of. Their experience showed in their ability to balance great candid shots with organizing guests for key pictures. They deliver extremely high quality with no fuss or drama….Our dholi was excellent engaging with the crowd to psych people up who had never been in a baraat before. He showed up early and did a good job of matching the music instead of trying to overshadow it….The dancers were a huge hit at the reception….. Our ceremony decorator's creative vision is very strong and it came together better than other companies would have been able to do it at a fraction of the price….. Our DJ went above and beyond for our wedding specifically in helping set up the Baraat. Our guests cannot stop raving about the music at the reception and how well he blended Indian and American music together. I would specifically recommend him for fusion weddings….. Our florist is fantastic, responsive, creative, and flexible……Meredith, thank you so much for all the work you did for us. You are the most responsive human ever! 11/10 rating! You probably did a million things behind the scenes that we aren't even aware of to keep everything going smoothly. We had the best day ever!
Vinati Potash
Bride