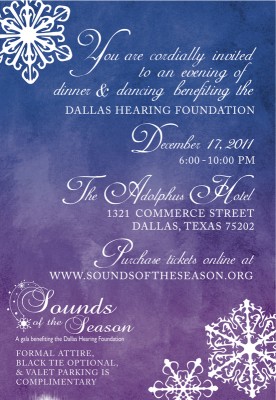 Dallas, TX
For the third consecutive year, Significant Events was honored to work with the Dallas Hearing Foundation to produce the Sounds of the Season gala. A cello ensemble played during cocktail hour as guests enjoyed flavorful passed hors d'ourves and cocktails and got the chance to bid on over 100 Silent Auction items via our new electronic bidding system. As the main program began, guests entered the sparkling ballroom with tables bedecked in silver and white linens with lush purple and blue floral centerpieces. Each table was named after a Dallas Hearing Foundation recipient and contained a picture of the corresponding recipient and his/her story of living with hearing loss. Guests enjoyed a delicious three course meal from the hotel's noted chef. Our emcee for the evening, 106.1 KISS FM's own Kellie Rasberry kicked off the evening's entertainment which included a beautiful Nutcracker ballet performance from the Texas Ballet Theater. The heart of the evening was the presentation from several children and parents living with hearing loss who showed us how their lives had been substantially improved through the work of the Dallas Hearing Foundation. As dinner concluded, guests enjoyed a live auction, dancing, a wine pull, and photo favors from our photo station. Looking forward to making the event even better in 2012!
Photographer Stacie Tatum Photography
Testimonials
"This was by far the  best gala we've ever had. It made the other years pale in comparison, and the other years were wonderful. Thank you for all you did to make this happen, Meredith. We could not do it without you!"
B. Robert Peters, M.D.
DHF President 
"Meredith is great at anticipating what the needs are going to be and taking care of them.  I have emailed/called/texted her until the wee hours of the night and always gotten a response.  She is always one step ahead and in working with DHF for the last several years is really in tune with what our attendees enjoy and will respond to."
Jennifer Clark
DHF Administrator
"Definitely a plus 10! We had a wonderful evening and hope to attend again next year."
"It was awesome in all regards! Kudos to all involved in the planning."
"It was worth the ticket. It is really a good event."
Survey Respondants