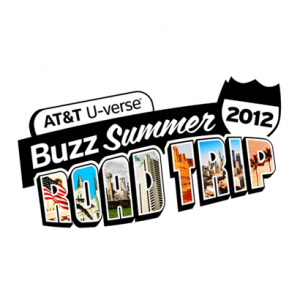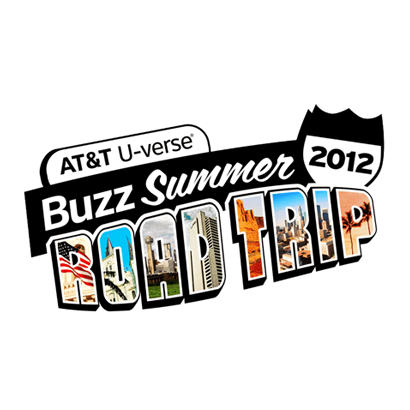 Dallas, TX
For the Dallas leg of their Summer U-Verse Road Trip Series, AT&T and their producers Digital Kitchen contracted Significant Events to create an outdoor event for 1,500 AT&T employees.  Tents were set up for U-Verse networks – HBO, Starz, Fox, TNT, HDNet, and – and employees could visit the booths and get take-aways, snacks, or a photo opportunity with NASCAR's Kyle Petty or iconic Dan Rather! These photos and many more were taken in front of the Step and Repeat which we had created with the event logo. Guests could also visit the huge Game of Thrones prop throne for a photo opportunity. Balloon bunches in AT&T colors as well as a 72′ long orange "red" carpet were installed in order to drive home the brand. Ice cream was served by the Significant Events' staff from a branded ice cream truck as well. Since U-Verse is a cable television product, it was imperative that a crystal clear, high definition television sizzle reel could be projected. No small task! We accomplished it using a custom L.E.D. Wall and additional power brought into the space. Audio dispersement was important as well for not only the television reel but also the raffle items. Guests had a great time taking a break from their desks to come and celebrate U-Verse in the plaza below! 
Photographer Out of the Booth
Testimonial
"The Buzz Road Trip pulled into Dallas in a big way and you had a key role in making this a day to remember.  Thanks for everything you did to help manage every detail and for going the extra mile in making this event such a great success.  I am told that there were well over 1500 employees who visited our booths, road trip bus, and ice cream truck, and who learned what a fantastic programming line up is offered through our member channels.  It was truly a unique opportunity for AT&T employees to celebrate the success of how we are bringing the U-verse experience to our customers in a way that both educates and inspires. We are so fortunate to have such a passionate and talented team who is willing to put so much time and energy behind an event like this.  Thank you for your help in helping us take our Buzz Summer Road Trip on the road!"
With gratitude,
Karen Loenser
AT&T Marketing Director and Executive Producer