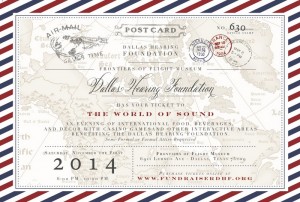 Dallas, TX
For the 6th year in a row, Significant Events has been proud to produce the Dallas Hearing Foundation's Annual Fundraiser! This year, we decided for the first time to change the format of the annual event to one that was more interactive, fun, and creative than in our previous years. Frontiers of Flight Museum was the location of choice for our global/travel themed design. Fifteen of Dallas's best floral designers each selected a country and designed a table after that country, which was so beautiful and interesting to peruse. Food stations were global in nature reflecting cuisine from around the world. Two bars provided themed beverages: one a California wine bar and the other a Texas Beverage Bar. Our dessert table was a thing of beauty and deliciousness as 6 area cake designers created travel themed confections! Guests began the evening perusing the Silent Auction and enjoying both the photo station and the Henna artist providing temporary "tattoos"! A brief presentation from DHF's leadership as well as stories from children who live with profound hearing loss and whom DHF helps on a daily basis gave a moving presentation. As guests began partaking in dinner, the casino games opened as well. Guests were able to try their hands at Black Jack, Roulette, Craps, and Texas Hold 'Em, with all proceeds benefitting our great cause. A live auction and dancing capped off the evening. Guests exclaimed it was our best event ever!
DHF Gala 2014 from Lynn Films on Vimeo.
Photographer John Christopher Photography
Testimonials
"We have worked with Meredith for so many years now that she knows our needs before we know them! We always trust Meredith and her staff to take care of EVERY detail and she never disappoints. Makes the event more enjoyable knowing they are taking care of everything."
Jennifer Clark
Dallas Hearing Foundation Administrator
"Great event for the whole family. Very well organized…..Great fun and dealers were VERY professional…..This was a nice change!…..We had fun at the games. Including the poker tournament for a good cause….Floral arrangements were FAB!! Best I've seen in a while."
Gala Attendees/Survey Respondents