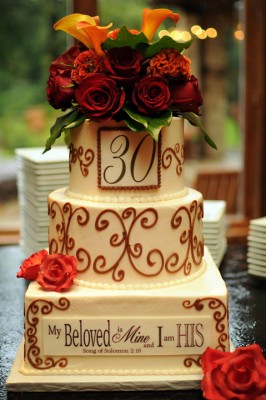 Westlake, TX
30 years of marriage is definitely something worth celebrating, and Joan and Mike did it in style by hiring Significant Events to plan this momentous affair! Guests were greeted at Joan and Mike's gorgeous home by valet parking and were immediately awed by the grand tropical floral arrangements that had been created for the event. Besides reconnecting with friends and family, guests enjoyed a fun culinary experience as gourmet passed hors d'ourves were served in rounds each with an appropriately paired wine. Both executive chef and sommelier were on hand to explain the pairings to guests and to tantalize their taste buds ahead of time. A live musical duet played background music as well as fun sing-a-long and dance favorites which allowed the guests to enjoy some great entertainment while outside in the oasis like pool area. A delicious and beautiful cake was served, as Joan and Mike had not had a wedding cake at their wedding 30 years ago. On-site baristas served hot and fresh espresso with steamed milk, made to order, to accompany the cake. After a hilarious "Not-So-Newlywed" game for Mike and Joan and a series of toasts and blessings, guests received a party favor which consisted of a set of custom made stone coasters with Joan's favorite Bible verse which was also embellished on the cake and the invitations, as faith formed the foundation of this couple's long-lasting marriage. Significant Events was honored to be part of such a joyous and important celebration!
Photographer Dorothy Gautreaux Photography
Testimonial
Thank you for making our special occasion so wonderful. Without you it would not have happened. I can say for sure you are amazingly efficient, professional, organized, and delightful! God really blessed me by leading me to you for this celebration!
Joan Darden
Guest of Honor