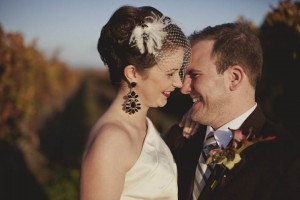 Sonoma, CA
Our Dallas based couple Kristn & Tyson wanted the wedding of their dreams – a wine country wedding in picturesque Sonoma, CA – and that is just what we gave them! Friends and family alike traveled to this destination wedding weekend and were not disappointed! The wedding was held at a beautiful property in the heart of Sonoma with some very unique and interesting installation art accenting the venue amongst the vineyards. Guests entered the stunning ceremony and were offered hot apple cider to drink as an acoustic guitar played. Kristen's modern gown paired beautifully with her lush fall bouquet of crimsons, greens, oranges, and golds. Following the moving ceremony with the gorgeous fall colors serving as the backdrop, guests proceeded to the barn patio where they enjoyed delicious passed hors d'ourves – all local and sustainable cuisine. An amazing dinner followed in the dining tent flanked with string lights over tables covered with breathtaking orange and green centerpieces and organic fruit. After much love and laughter over local wine and great food, guests proceeded back to the interior of the barn for the reception. Live Band Karaoke was the hit of the evening as guests got to show off their singing skills – or lack thereof! – on stage with the band rocking in accompaniment behind them. The barn was decorated with lounge furniture, loads of candles, and crystal chandeliers to create a space of rustic elegance. One the the biggest surprises of the evening was the wedding cake, which wasn't made of cake at all, but rather from wheels of local artisan cheeses! When paired with toppings like fresh honeycomb and fig jam and alongside sweet treats from famed Bouchon Bakery in Yountville, CA, guests couldn't get enough of the dessert table! A Polaroid guest book provided additional entertainment as did the open bar! Kristn & Tyson departed the evening under a shower of fall leaves that their guests threw in the air. It was truly a magical weekend, and Significant Events was honored to coordinate the whole thing from thousands of miles away! 

Photographer Shaun Menary Photography
Testimonial
Sometimes I wonder if we ever would have gotten married if it hadn't been for Meredith.  If she weren't there to keep us on track and solve problems for the 9 months that we worked together, we probably would have just settled for a court house wedding and sent our families an announcement text.  I knew from the very beginning that, with our schedules and jobs, I needed help.  And I'm so glad that help came from Meredith.  She kept us on track, every step of the way, and became one of the most important people in our lives.  With her help, we were able to focus on keeping our families on track and helping them plan for the event – and were able to keep our day jobs in the process. Meredith "got" us from the very beginning, which was evident in her recommendations for our photographer and venue.  Out of all the options, she knew that the photographer and venue were a perfect fit for us from the very beginning.  That level of intuition so early on in the planning process is rare, and sets a level of confidence that's integral to the planner/client relationship. Meredith was our first investment in our wedding day and we could not have made a better decision. Simply put, we love Significant Events.  If you're considering hiring them for an event, either here in Dallas or otherwise, sign the contract now.  Meredith and her team were able to flawlessly execute our entire wedding weekend – including the rehearsal dinner – with only one visit prior to wine country.  That is nothing short of a miracle, as we could never have managed on our own.  Meredith's event contacts paid off in spades and, even with our very limited budget, she was able to put together a beautiful event that so perfectly reflected my (now) husband and me as a couple. On the day of the wedding, Meredith and  her assistant Kristen were excellent troubleshooters and, if any problems arose during the event, we never even noticed – which is the way it should be.  They were flexible, rolled with the punches, and dealt with our crazy family and guests with graceful poise. They were my go-to for any questions and concerns and put us at easethroughout the entire weekend.  Meredith and Kristen did a great job of guiding us (and our guests) through the event without being intrusive, and we are all so appreciative of their coordination style and abilities. Significant Events was our touchstone throughout the entire process and we can't thank the team enough for making our wedding so uniquely "us". 
Kristn Stuart
Bride