2017's Most Memorable Moments
December 30, 2017
2019's Most Memorable Moments!
December 22, 2019
A fantastic year indeed! With 42 events completed by our team, we are so proud of the work we have done this year with all of our wonderful clients. Here are our most memorable moments!
MOST MEMORABLE BRIDAL GOWN: MARIANA'S GOWN (Carolina Herrera)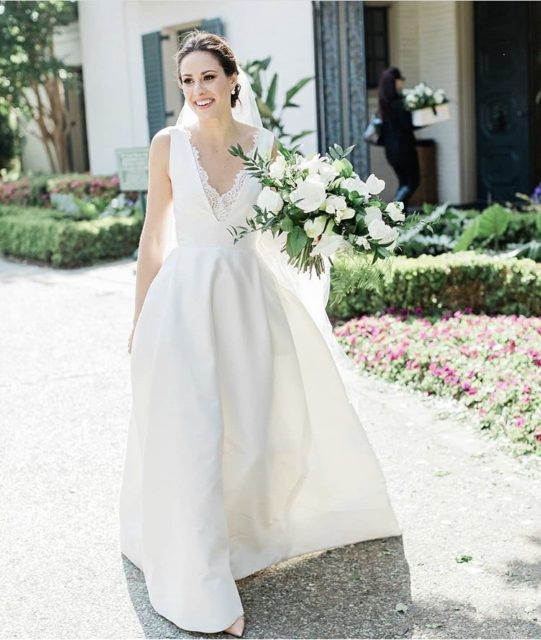 Mariana's chic and elegant Carolina Herrera gown from Warren Barron was so sophisticated and elegant and the perfect fit for her!
MOST MEMORABLE BRIDESMAIDS' DRESSES: AMY'S BRIDESMAIDS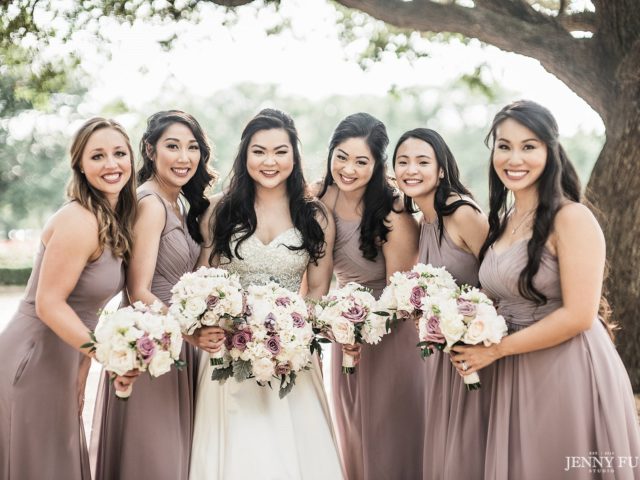 Amy's bridesmaids looked so lovely in these smoky lilac gowns paired with their pink & white bouquets. Perfect for a Texas wedding in Spring!
MOST MEMORABLE'S GROOM'S PARTY ATTIRE: MARCUS & HIS GROOMSMEN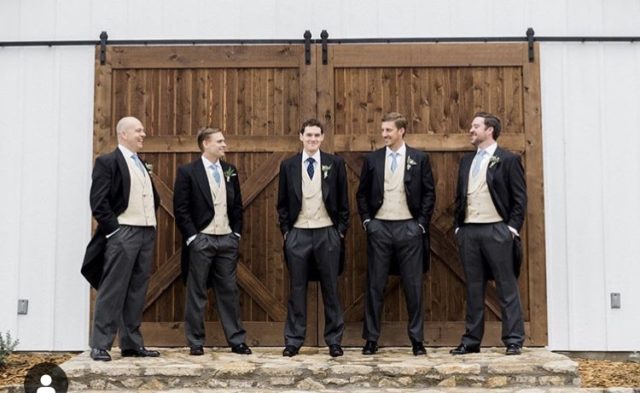 When your bride is from Ireland, why wouldn't you wear Morning Suits? Marcus and his groomsmen fit the part perfectly with this handsome look, and all of the Irish eyes at the wedding were smiling!
MOST MEMORABLE HAIR & MAKEUP: THE STYLING STEWARDESS

Kaleigh and her team of stylists helped to beautify all of the ladies this year in the bridal parties of Kate, Lindsey, & Courtney. These three brides and their attendants all looked so lovely!
MOST MEMORABLE WEDDING DESIGN: KELLI & JEFF'S WEDDING (Perkins Chapel, The Belo Mansion, Gro Designs, Shag Carpet, BBJ Linen, La Tavola Linen, Posh Couture Rentals, Top Tier Event Rentals, DFW Dance Floors, Dallas Drape & Light, Beyond, Frosted Art, Bella Acento)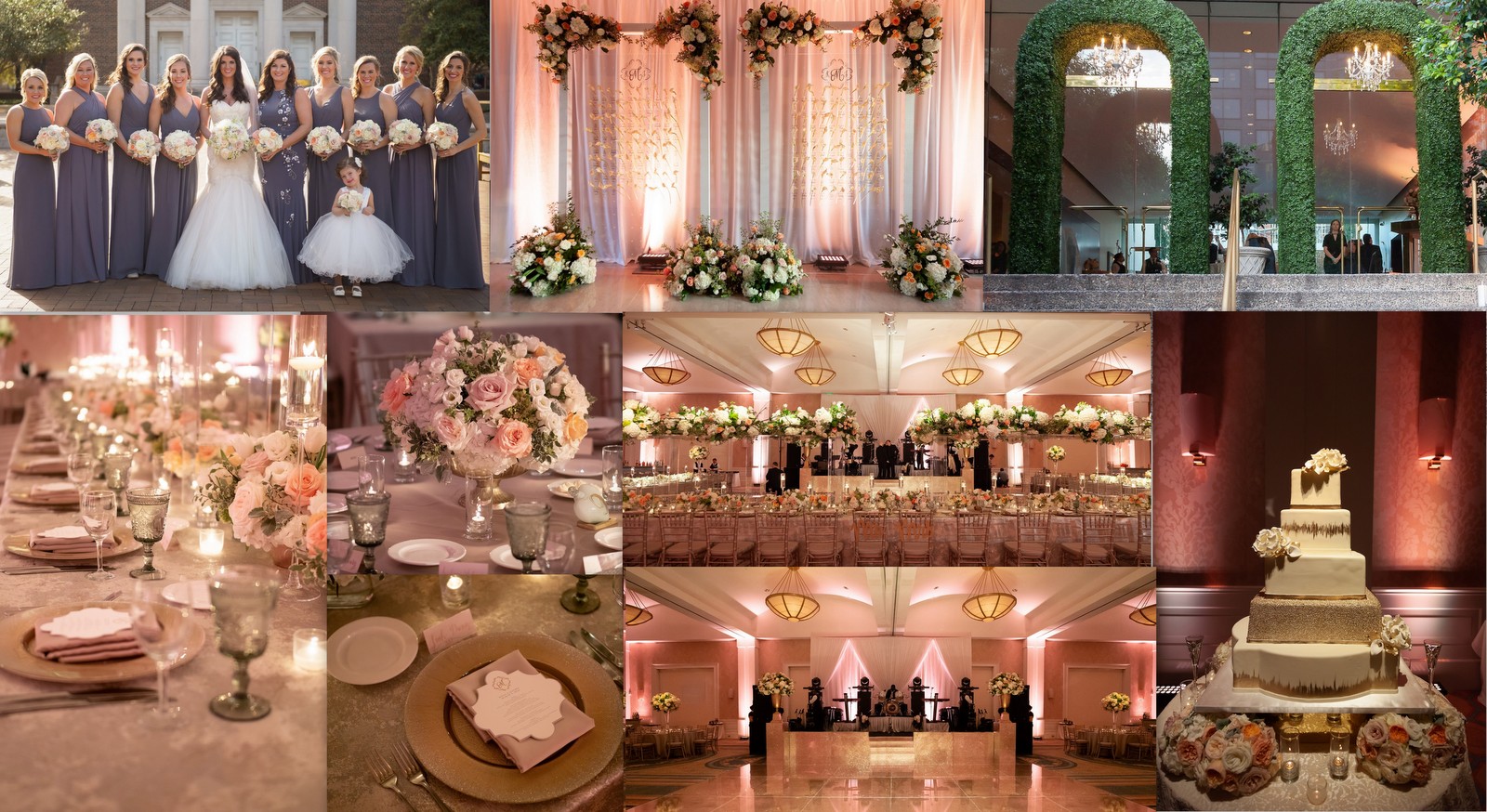 Such a stunning wedding design! Bridesmaids wore slate gray and carried bouquets in tones of peaches and ivories by Gro Designs. Guests entered the venue via stairs lined with candles and under two boxwood arches with crystal chandeliers hanging overhead from Shag Carpet. Guests then found their table assignments on a custom made lucite wall by Shag with floral from Gro paired with every guest name and adorning the perimeter of the display. The ballroom looked even more amazing with a head table covered with mixed metallic linens by BBJ and La Tavola Linens, glittery champagne chargers by Bella Acento, smoky silver glassware by Top Tier, and a custom lucite riser elevating more amazing florals by Gro. The rest of the guest tables were equally as beautiful with lush florals and taupe linens, platinum chargers, and champagne chiavari chairs by Posh Couture Rentals. The dance floor by DFW Dance Floors was the star of the show, as Kelli and Jeff chose a gold, glitter dance floor that sparkled with every step. The stage backline was draped by Dallas Drape, and the entire room glowed with lighting by Beyond. Lastly, the cake by Frosted Art with painted gold accents was artistic and delicious.
MOST MEMORABLE ROOM TRANSFORMATION: THE TOLIAS' ANNIVERSARY PARTY (Lizzie Bee's Flower Shoppe, Lawson Event Rentals, and Harmland Visions)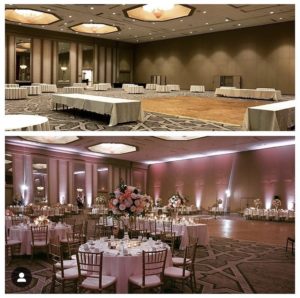 We transformed the ballroom at the Renaissance Addison from basic to beautiful with the help of floral from Lizzie Bee's, chairs from Lawson's, and lighting from Harmland Visions!
MOST MEMORABLE SOUTH ASIAN WEDDING: DIMPLE & JITEN'S SATAK, CEREMONY, & RECEPTION (Hyatt Regency DFW Airport, Raofactor, DJ Riz Entertainment, Zoey's Garden Flowers, Creme de la Creme, DFW Dance Floors, Fauxcades, Harmland Visions, William Bichara Photography, Epique Cinema, Blue Flame Entertainment, Amit Deshpande, GBS Linens, JJ Saree Draping, KC Artistry, MAM Hair Artistry, Aime Ramirez Makeup, Annapurna Catering)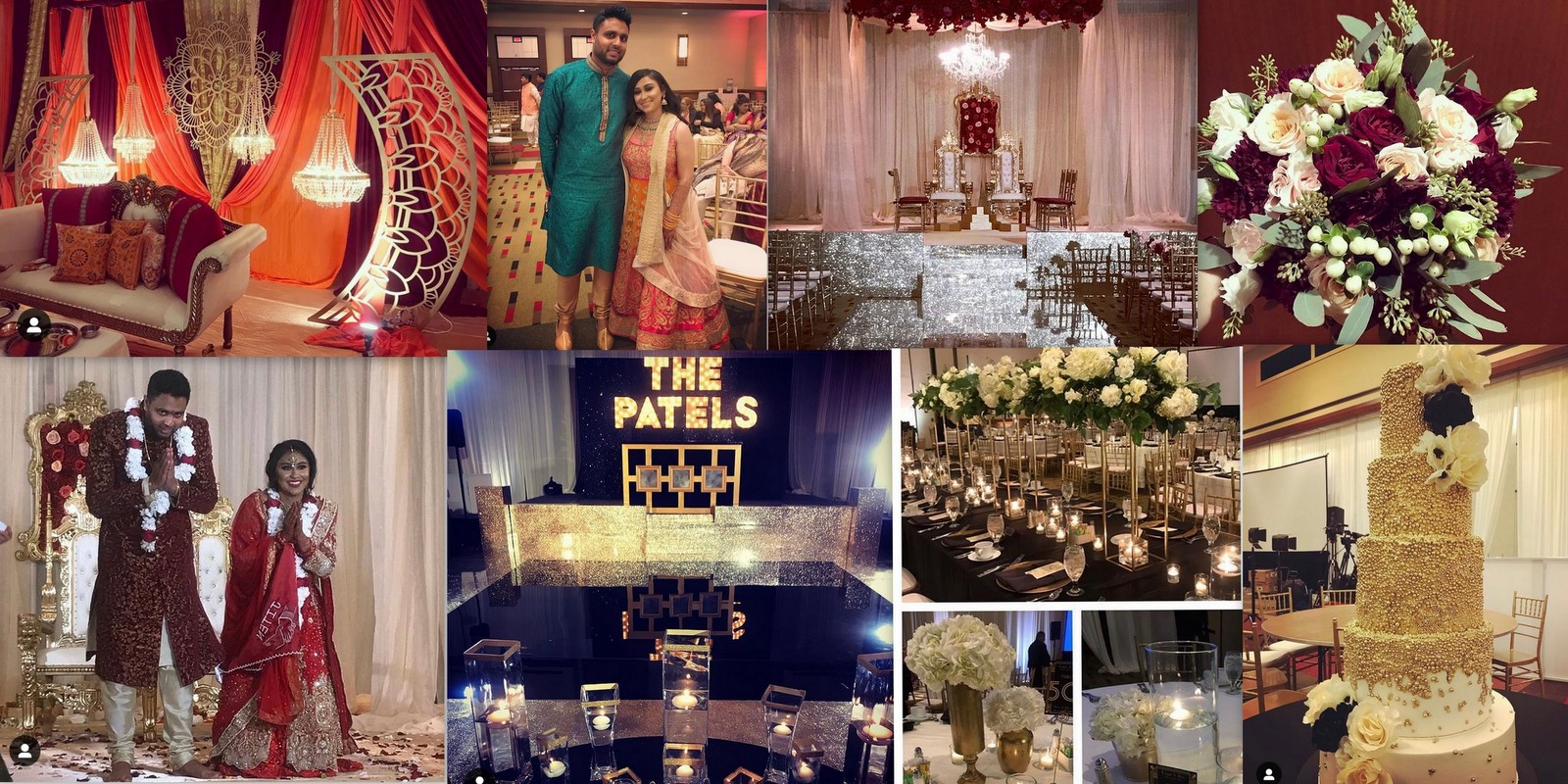 Dimple & Jiten had a fun-filled multi-day celebration for 540 guests with various ceremonies and receptions all with unique designs, colors, and traditions!
MOST MEMORABLE FUSION WEDDING: ANDRES & SIMER'S SANGEET & WEDDING (Prashe, DJ Jazz Entertainment, J.Torry Artistry, Peerless Tents, Beyond, Nasher Sculpture Center, Steve Koo Photography, Spinning Leaf Films, Branching Out, Sugar Bee Sweets, LeForce Entertainment, Dallas Wedding Music, Love Notes, BBJ Linen, Wolfgang Puck Catering, Marquee Event Rentals, Blue Diamond Limos)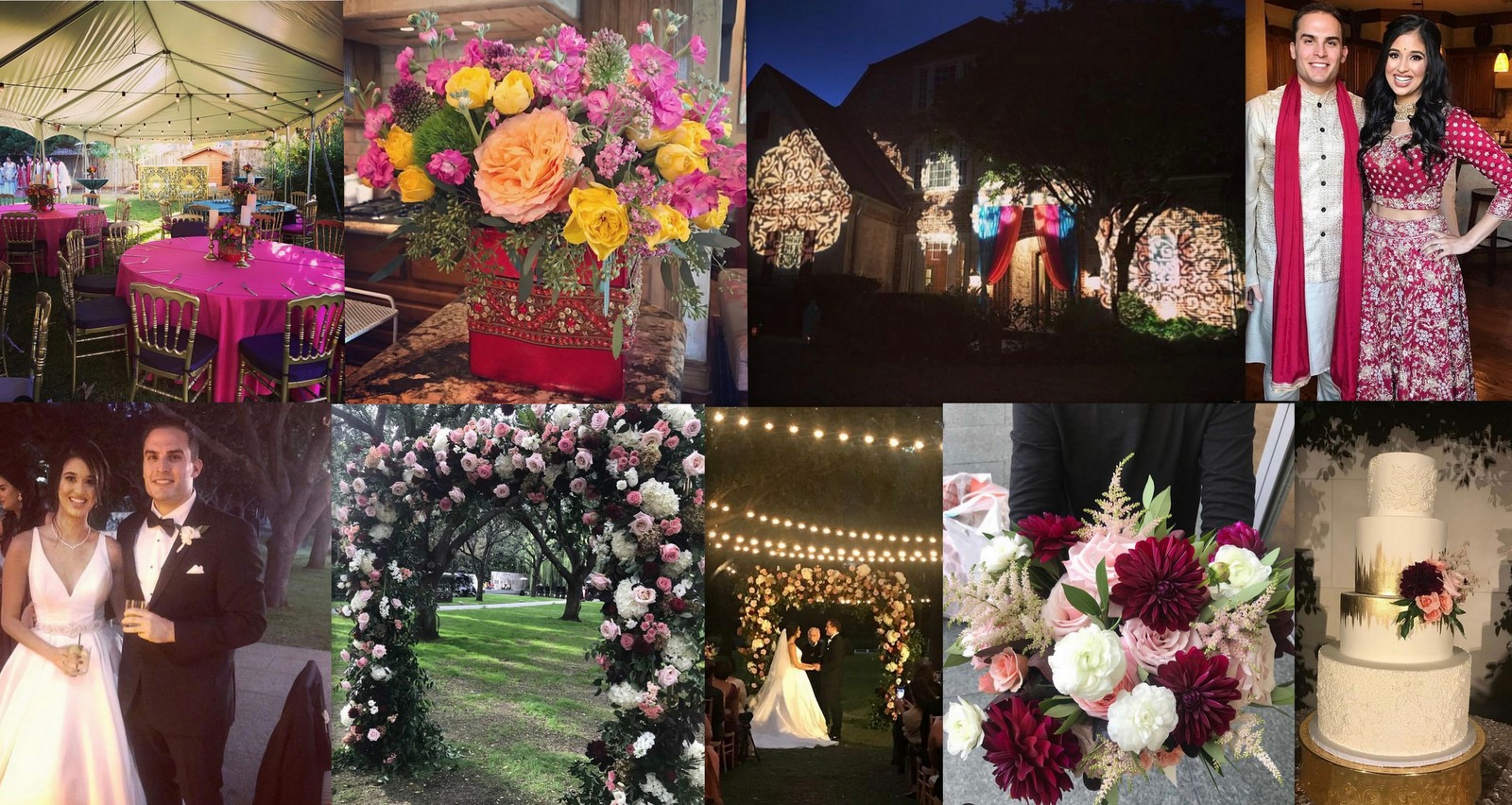 Simer & Andres merged their lives in their Punjabi and Mexican cultures in a beautiful weekend of fun. The weekend started with an Indian inspired Sangeet at Simer's parents' home. An outdoor ceremony and reception followed the next day at a local art gallery with both Indian & Mexican cuisine and music. Such a fun weekend!
MOST MEMORABLE DESTINATION WEDDING: SOPHIA & JOHANN'S WEDDING IN HOUSTON (West University United Methodist Church, River Oaks Country Club, Events in Bloom, Chinatown Band, Edible Designs by Jessie, Aztec Event Rentals, Sam's Limo, Jenny Fu Photography, Leap Productions, Mike's Dance Floors, Divisi Strings)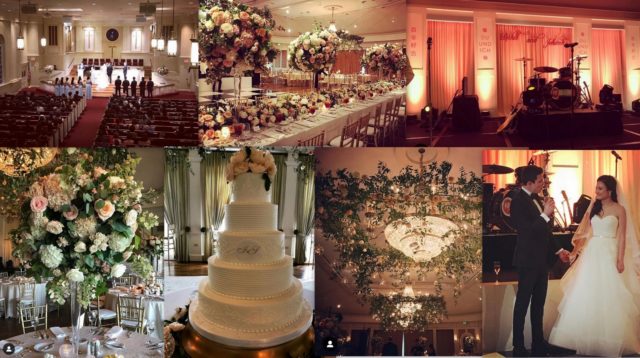 Sophia & Johann had a gorgeous wedding in Houston at a historic country club with flowers galore. Always fun to do a wedding in other parts of Texas!
MOST MEMORABLE CORPORATE EVENT: VARIDESK'S HOLIDAY PARTY (Gas Monkey Live, G-Texas Catering, Cover Down Band, AM Linen Rental, AVSD, Haute Floral, Balloons Now, Magic Moments, Encore Productions, Elite Casino, Valor Visuals)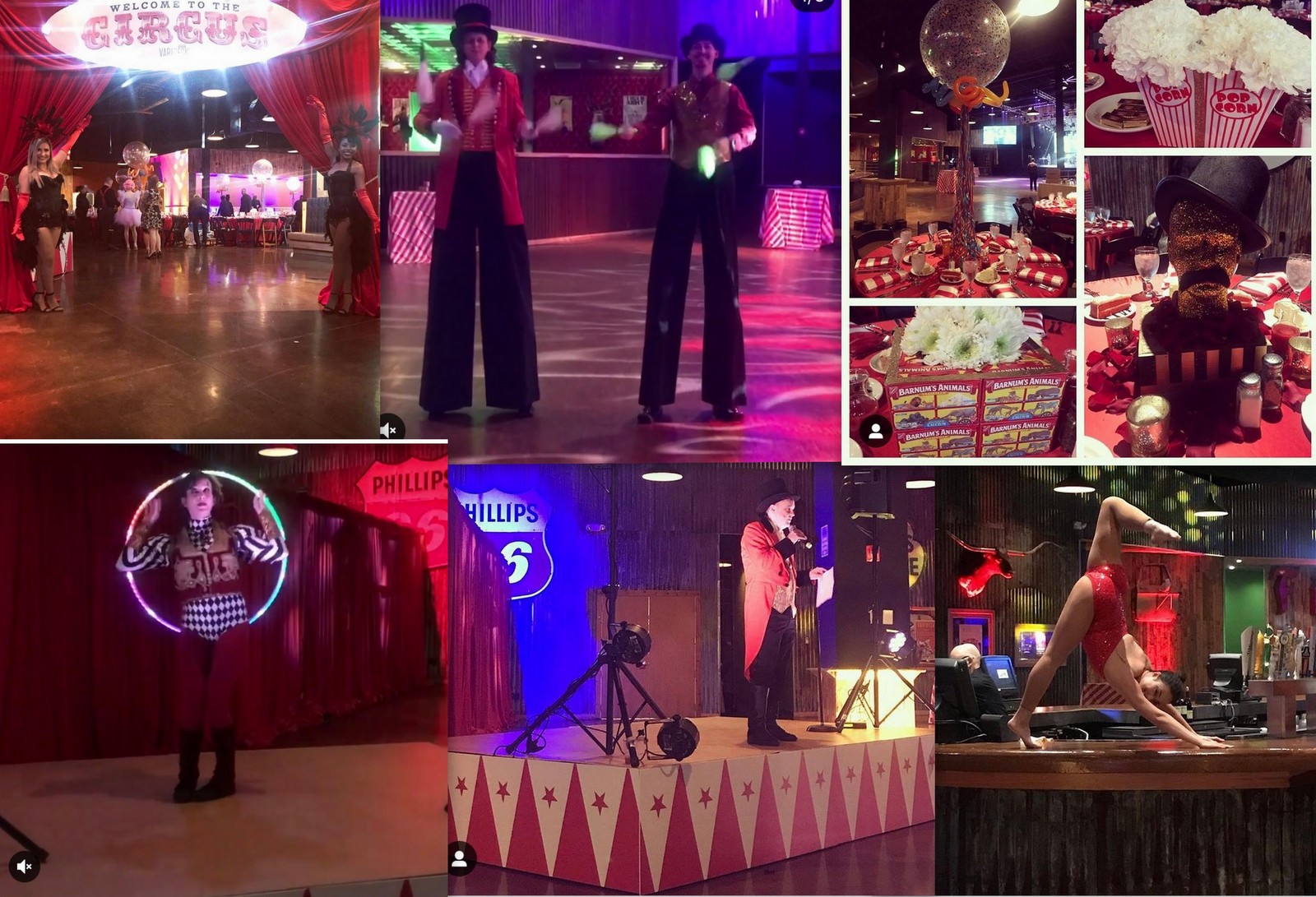 Varidesk's circus themed holiday party was such a blast! With fire dancers, showgirls, juggling stilt walkers, contortionists, hoopist, roaming magicians, a live band, and fabulous red, white, and gold decor we brought the big top right to Dallas for this great company!
MOST MEMORABLE CHARITABLE EVENT: DALLAS HEARING FOUNDATION'S ANNUAL FUNDRAISER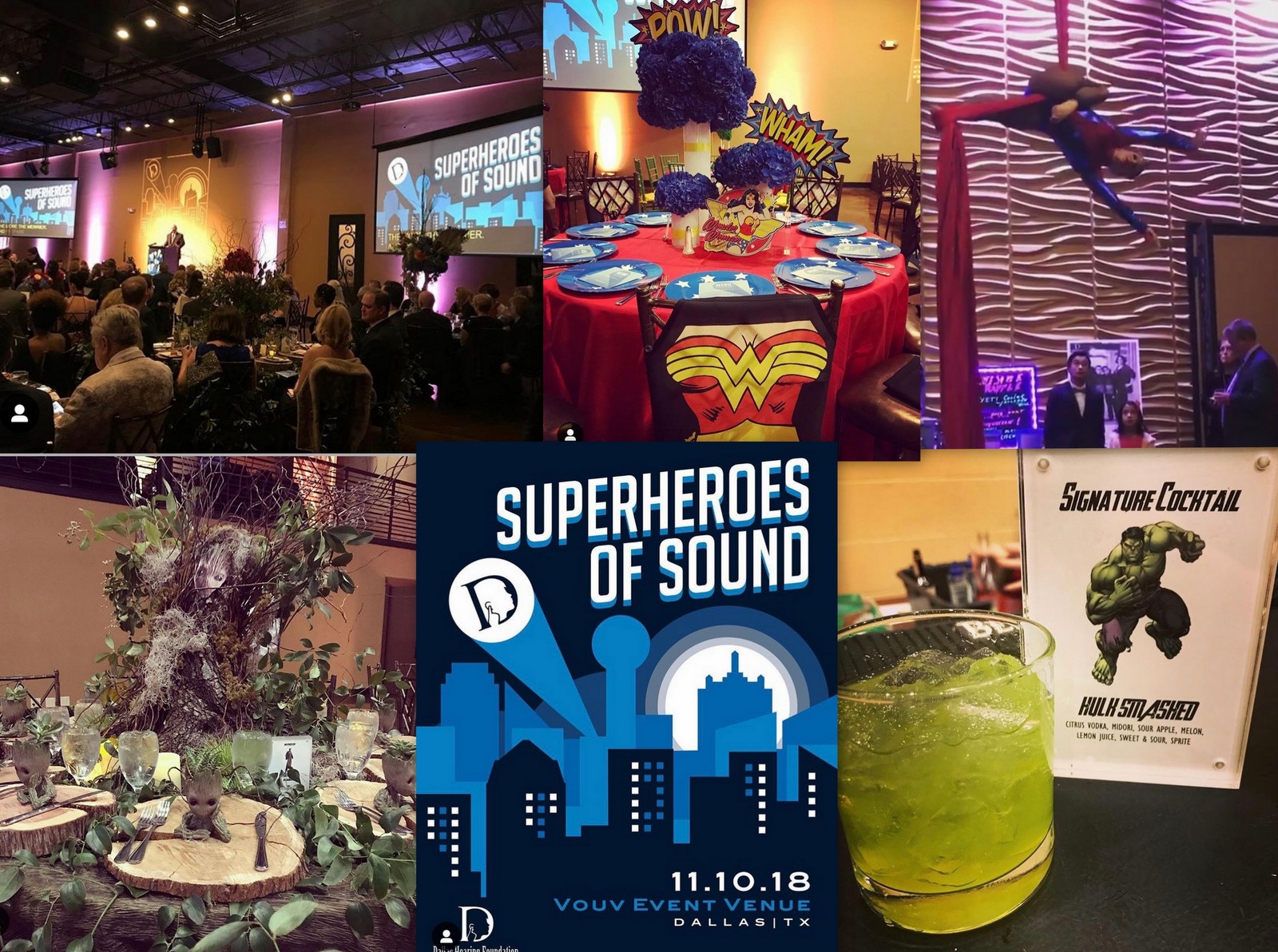 So wonderful to be part of this event for the last decade! Our gala this year was themed "Superheroes of Sound" and the real-life superheroes that make DHF the wonderful organization it is. Everyone had a blast with this superhero design!
MOST MEMORABLE SOCIAL EVENT: MICHELLE'S HALLOWEEN PARTY (Central Market Catering, Cohost, Magic Moments, Beyond, Timeless Fiori, Big D Party Rental, B3 Entertainment, Amuse Bake Shop, LeForce Entertainment, Shag Carpet, D&L Security, Valor Visuals)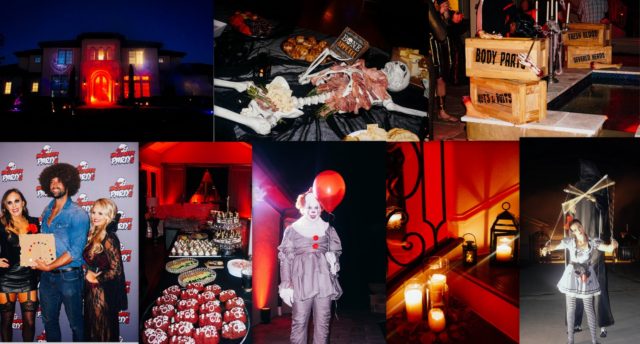 Only the most "spooktacular" party will do for our client Michelle, and we made it happen in grand fashion with so many scary and gothic elements throughout the night!
MOST MEMORABLE EVENT DECOR: SHAG CARPET

Shag Carpet Props always provide creative and affordable decor options for our clients including the custom carpet and vinyls for KDDI's Grand Opening, furniture and stunning decor pieces like a custom branded lucite wall for Kelli & Jeff's wedding, and sponsor display for the Service First Mortgage Sales Rally.
MOST MEMORABLE D.I.Y.: TONI & MIKE'S WEDDING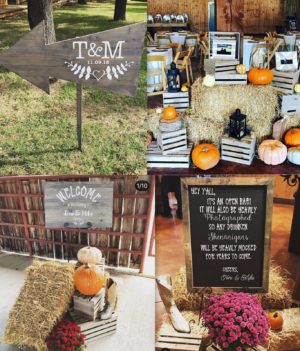 Toni & Mike's Texas Autumn ranch wedding was accented so adorably with custom wood signage and entrance and table decor they created themselves!
MOST MEMORABLE BOUQUETS: PETALS COUTURE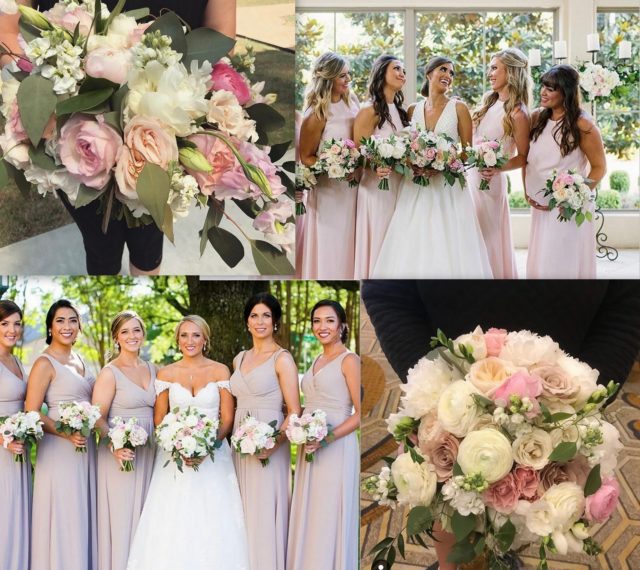 We always love the gorgeous bouquets from Petals Couture, and this year their team outdid themselves with Victoria & Lizzie's bouquets!
MOST MEMORABLE CENTERPIECES: LUSH COUTURE FLORAL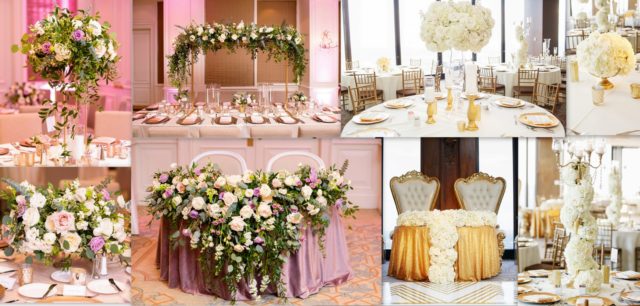 Lush Couture always wows us with their stunning designs, and this year they were better than ever at the weddings of Deirdre & Joe and Alison & Dakari!
MOST MEMORABLE LARGE SCALE FLORAL: GRO DESIGNS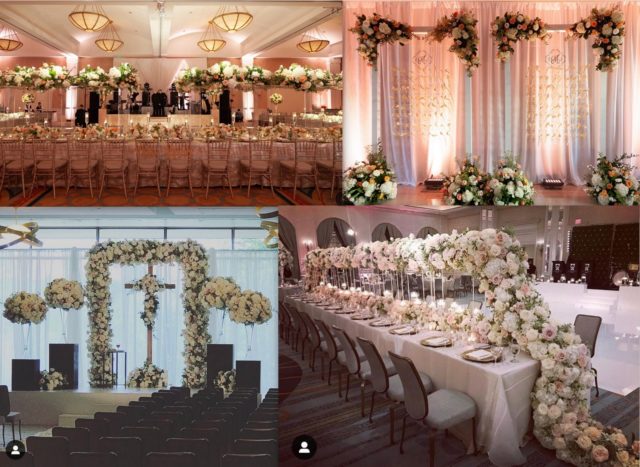 This was our first year working with Gro and they delivered in a BIG way with amazing altar, foyer, and head table pieces for Kelli & Jeff and Courtney & Mil's weddings!
MOST MEMORABLE LIGHTING: BEYOND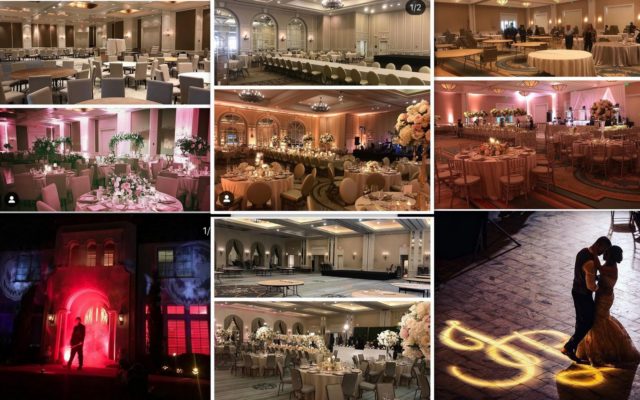 So many of our events this year were perfectly accented thanks to decorative lighting from Beyond. Just check out some of these before and after images to see what a difference lighting made at the weddings of Deirdre & Joe, Kelli & Jeff, Victoria & Blake, Courtney & Mil, Jackie & Brandon and at Michelle's Halloween Party!
MOST MEMORABLE CAKES: FROSTED ART

Frosted Art always creates incredible cakes for our clients that are both delicious and beautifully designed such as for the weddings of Alison & Dakari, Lindsey & Tanner, Kelli & Jeff, Stephanie & Mikel, and Kendall & John.
MOST MEMORABLE DESSERTS: AMUSE BAKE SHOP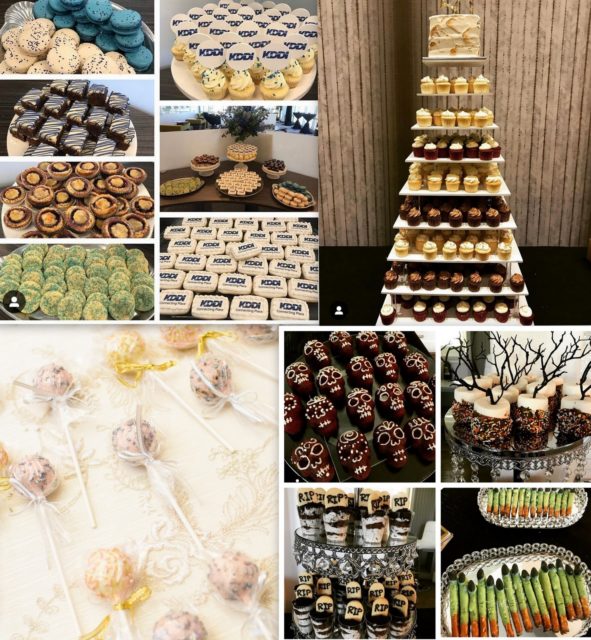 Amuse Bake Shop has continued to delight our clients' eyes and tastebuds with their adorable and tasty treats for the KDDI Grand Opening, the Tolias' 50th Anniversary, Deirdre & Joe's wedding favors, and Michelle's Halloween Party.
MOST MEMORABLE LINENS: BBJ LINEN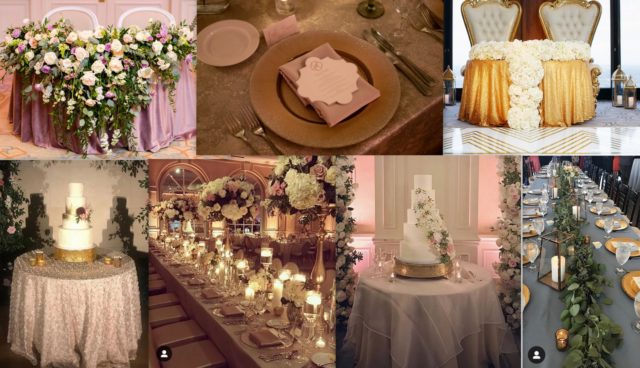 BBJ continues to provide the most beautiful choices in linens for our clients' tables with so many new choices in 2018. Their linens looked great at the weddings of Deirdre & Joe, Kelli & Jeff, Alison & Dakari, Simer & Andres, Victoria & Blake, Courtney & Mil, and Alison & John.
MOST MEMORABLE RENTALS: MARQUEE EVENT RENTALS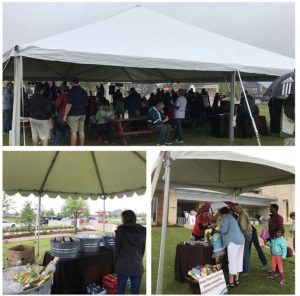 Marquee's large inventory of rentals provided much needed event elements for many of our events this year including the Canyon Falls' Fallapalooza, the Hollyhock "Get Your Frisco On" celebration, the Grove's Grand Opening, Stream's Summit After Party, and the KDDI Grand Opening.
MOST MEMORABLE INVITATION SUITE: STEPHANIE & MIKEL'S INVITATION SUITE

We just loved Stephanie & Mikel's invitation suite with laser cut jacket, glitter backing, metallic insert cards, and ribbon & crystal belly band. So pretty! Thanks to our Significantly Said designer Abby Leal for the great work this year!
MOST MEMORABLE CEREMONY LOCATION: PERKINS CHAPEL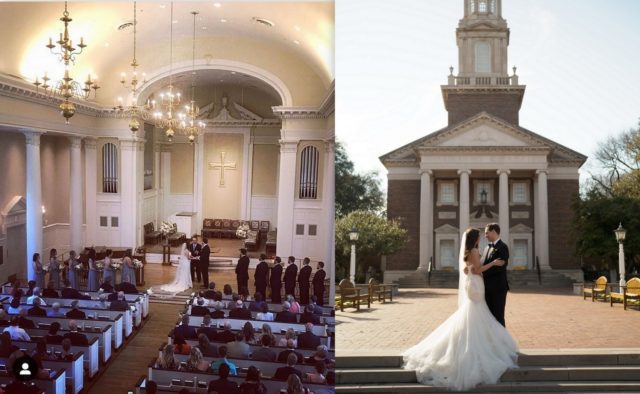 The Perkins Chapel on SMU always provides a lovely setting for wedding ceremonies as it did this year for the weddings of Kelli & Jeff and Alison & John.
MOST MEMORABLE RECEPTION LOCATION: HOTEL CRESCENT COURT

The Crescent has been one of our favorite venues for years and we worked there the most in 2018 with the beautiful weddings of Deirdre & Joe, Stephanie & Mikel, and Heidey & Keith.
MOST MEMORABLE PHOTOGRAPHY: JOHN CHRISTOPHER PHOTOGRAPHY

No matter the type of event, John Livas provided wonderful photography to capture it perfectly for the weddings of Lindsey & Tanner and Jackie & Brandon and the neighborhood celebrations for The Grove, Hollyhock, and Canyon Falls.
MOST MEMORABLE VIDEOGRAPHY: MARC ROBERTS VIDEOGRAPHY

We can always count on Marc Roberts to create amazing wedding films for our couples, and he did so again this year for the weddings of Deirdre & Joe and Courtney & Mil.
MOST MEMORABLE DJ'S: LEFORCE ENTERTAINMENT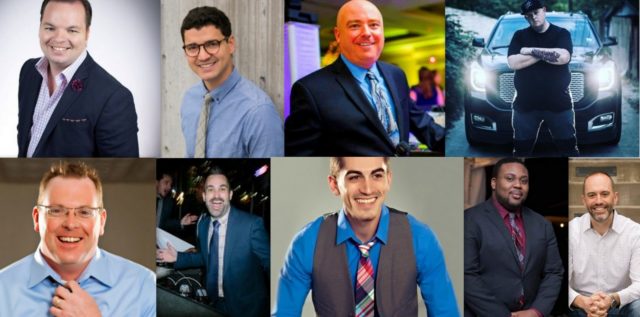 LeForce always brings the party to our events with their professional and fun MC's. We loved working with Adam M. for the weddings of Alison & John and Amy & Ryan, with Cameron for Alison & Dakari's wedding, with Cratin for the weddings of Heidey & Keith, Kendall & John, and Lindsey & Tanner; with Ed for Lauren & Chris's wedding; with Ryan for Mariana & Peyton; with Dominic for Simer & Andres's wedding; with Adam W. for Stephanie & Mikel's wedding, with Nate for Michelle's Halloween Party; and with Greg for the Canyon Falls Fallapalooza.
MOST MEMORABLE BANDS: EMERALD CITY BANDS (Emerald City & Downtown Fever)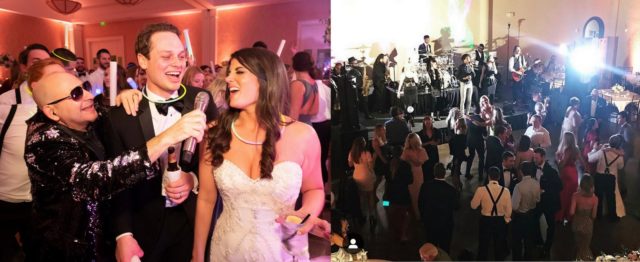 When our clients want live bands, we know who to contact, and the Emerald City Bands always bring big fun. Emerald City rocked the house for Kelli & Jeff's wedding, and Downtown Fever did the same for Lizzie & Michael's!
MOST MEMORABLE CATERING: CN CATERING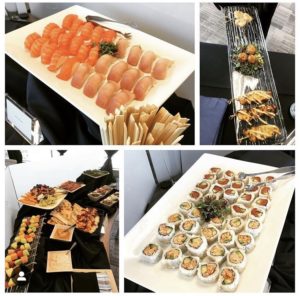 CN always provides our clients with delicious food and excellent presentation. We especially loved the fresh sushi display for KDDI's Grand Opening and the yummy food stations for Alison & John's wedding.
MOST MEMORABLE OFFICIANTS: LOVE NOTES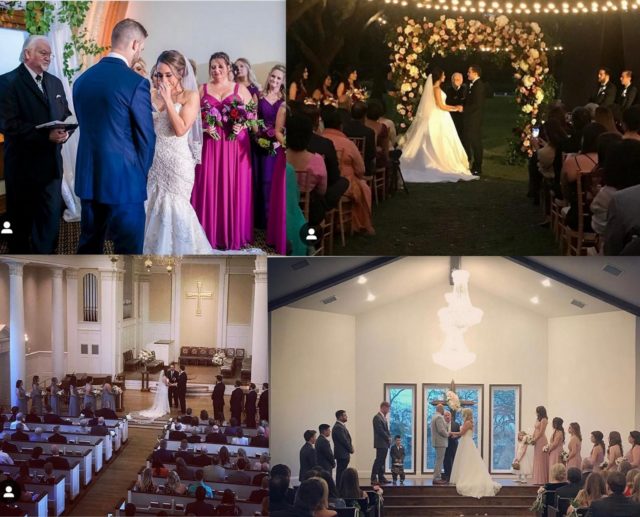 We are so thankful to have the Love Notes ministers to work with to craft custom wedding ceremonies for our clients. We worked with Ken for Alison & John's wedding, with Al for Jackie & Brandon's wedding, with Chris for Kendall & John's wedding, and Marty for Simer & Marty's wedding.
MOST MEMORABLE TRANSPORTATION: PREMIER TRANSPORTATION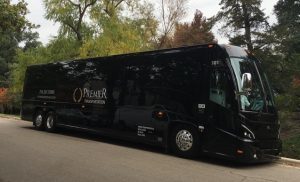 The best in the biz! We love working with Premier for all different forms of transportation, and they did a wonderful job this year for the weddings of Alison & John, Alison & Dakari, Mariana & Peyton, & Victoria & Blake.
MOST MEMORABLE HASHTAG: #WeSoHornsby (HEIDEY & KEITH'S WEDDING)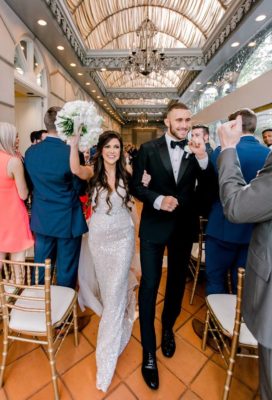 No reason why you can't have a little fun with your wedding hashtag! And when you are marrying a Hornsby, well, the hashtag writes itself (:
Thank you to all of our wonderful clients, vendors, and families who helped make this year possible! Cheers to a successful 2019!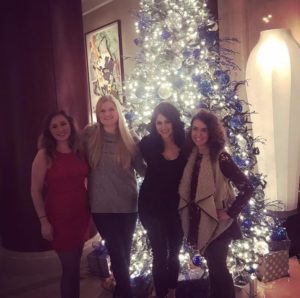 Love,
Meredith, Rachel, Elizabeth, & Sarah