Designs to Inspire!
February 22, 2011
Tara's Wedding Design
May 18, 2011
We've all seen the traditional guest book where each guest signs his or her name on a line, recorded for posterity, and sure to be stuck on a dusty bookshelf or in a keepsake box rarely to be viewed. However, for the bride who wants to try something a little more creative, the guest book can really be an area to have fun and show some originality. Some of my favorite wedding trends in guestbooks are include:
Wishing Tree
A wishing tree is a fun décor piece that can be customized to match your wedding colors. Guests simply write a special message or wish for you on small cards with ribbon affixed to them. The wishes are then hung from the tree and then removed after the wedding and placed into a scrapbook!

Mad Libs!
For the playful, silly, and fun couple, create a custom "Mad Lib" for the bride and groom and have guests complete it during cocktail hour! Who knows what hilarious creations they will come up with!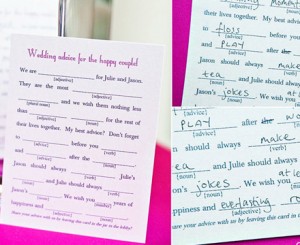 Polaroid Guest Book
For a fun and interactive activity, position a Polaroid camera on a table with supplies and have an assistant snap pictures of guests for them to then adhere to a scrapbook with a special message! These pictures get more fun as the night goes on!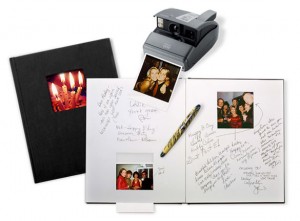 Art for Your Home
Instead of having guests sign a matted picture of the two of you, why not change things up a bit and create a custom art piece for your home? Here we have used a historic picture of the venue where the wedding reception was held and guests signed their names around it. A map of the city where the two of you met or were married, a painting of a place that has special significance for you, a family crest, etc etc – the possibilities are endless for what you could have matted and signed in lieu of a traditional guest book.
Engagement Album Guest Book
You are likely to have an engagement shoot captured by your wedding photographer prior to the big day. Most photographers offer an engagement album that can also double as your guest book with lots of space left around the pictures for guests to sign their name or leave you a little message. Best of all, the book itself becomes a wonderful coffee table décor piece in your new home together where you can smile at the pictures of the two of you while also reading your guests' special words to you.