How my Fiancé Learned about Wedding Planning
February 6, 2014
Let's face it – most guys aren't natural shoppers. They're not really great at details and have a tendency to procrastinate, a few reasons why groomsmen gift shopping can be a challenge for most grooms. After all, time and sincere effort goes into selecting appropriate, practical, and memorable mementos.
In the attempt to come up with unique, creative ideas to thank their groomsmen, some grooms get often stuck in limbo. A misconception about groomsmen gifts is that it has to be either one of these: funny, unique, or functional. Truth is, groomsmen gifts can be all those three and more.
There is no single formula to scoring great groomsmen finds but the list of "to dos" definitely make the process a lot easier.
Opt for unique gifts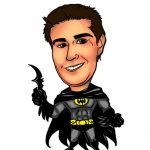 Knowing your groomsmen individually helps in making an informed gift choice. It is best for grooms to make the time to learn about each groomsman's hobbies or interests. While it is no crime to consider coordinated and/or matching gifts, it is also worth noting that each guy is different. Finding gifts specifically for each individual shows the extra effort put into the gift-selection process. This caricature from Groovy Groomsmen Gifts can be a perfect gift for your superhero-loving buddy.
Go for gifts that have great practical value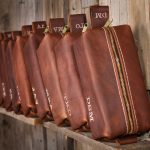 Men are not the type to collect trinkets. As a fellow guy, the groom knows that men appreciate items that can be of use to them. Consider getting tokens built for function over gifts that have no more than a comic appeal. Should the groom prefer matching gifts for his groomsmen, it is best to go for something that will generally be useful to the recipient, regardless of his personality.
Give a thoughtfully written thank you note
Groomsmen gifts serve the purpose of being the tangible representation of the groom's appreciation for his groomsmen. Although the item itself says a lot, it is always best to complement it with a handwritten thank you note. It adds a subtle but significant personal touch to the gift.
Wrap your gifts nicely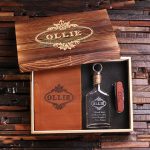 Presentation matters when it comes gift-giving as this is the first thing groomsmen notice. Cool packaging adds to the anticipation of opening the unknown. It is also a great way to incorporate quirky, whimsical twists to groomsmen gifts. Look for gifts that come in special casing for the ultimate wow factor. This 3 piece gift in a box set also from Groovy Groomsmen Gifts makes for a great groomsmen gift idea.
Have your gifts ready at least a month before the wedding
We know that weddings can be overwhelming and both the bride and groom's schedule become packed as days go by. Before anyone realizes, months turn to weeks, and weeks to days. Pulling of a task as important as selecting gifts for groomsmen requires time. A month before the wedding gives the groom ample time to look at options.