Real vs. Silk Flowers? Is There an Advantage?
October 31, 2009
Common Misconceptions About Assigning Guests to Tables at Your Wedding
July 18, 2013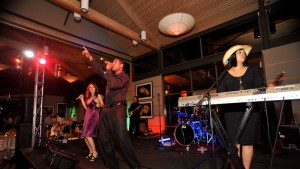 Whether you are looking to hire a single party band for your wedding or multiple acts for a corporate tradeshow, working with an Entertainment Agency is a must! Entertainment Agencies screen, hire, and manage professional entertainers of all genres in order to provide their clients with a perfect match to entertain and delight their guests, whatever the occasion. Besides the fact that most professional entertainers work with multiple agencies, they also book themselves individually and maintain their own websites and bookings. For this reason they are often hired directly by DIY brides and other clients in need of entertainment. As professional event coordinators, Significant Events always works directly with an Entertainment Agency no matter how small or how large the entertainment needs may be. Why not just work directly with the entertainment, you may ask? A recent, real-life example illustrates our reasons perfectly.
Recently, one of Significant Events' Preferred Venues had a wedding where the bride had booked a band from Louisiana to perform at her wedding. The bride and groom were both from Louisiana, and music native to the state was very important to this couple. The band did not leave for Dallas until the afternoon of the wedding. On the way here, their van broke down and they TEXTED (oh my!) the bride and groom that they were not going to be able to arrive until 2 hours after the start of the wedding reception. Talk about a crisis! Luckily the Maid of Honor had the bride's phone and told the wedding photographer what was happening. In a perfect example of the value of the team work and strong vendor networks that event professionals work hard to build, the wedding photographer sprung into action and called a DJ colleague and explained the situation. The DJ colleague, who was unavailable to come and help due to being across town working another wedding, called another DJ colleague, and that DJ dropped everything and headed immediately to the reception, in time to set up and be ready for guests to arrive for a bride and groom he had never met. While this was an excellent solution to this problem and the DJ did a wonderful job managing the reception under difficult circumstances, it did not change the fact that the bride and groom were extremely disappointed at the unfortunate situation and the lack of live music at their wedding that they had counted on and paid thousands of dollars for.
How could this situation been avoided with an Entertainment Agency involved? First and foremost, an Agency would have required the band to have arrived to Dallas the day before the wedding. That way if something like a vehicle breakdown did occur, there would most likely be time to fix the problem without the bride and groom even knowing a problem had occurred. Secondly, if for some reason the band was still not able to make it to the event, each Agency has a huge network of other bands who are comparable in style who could step in to play in the other band's absence. The bride mentioned above was lucky that her photographer was so well connected and took the initiative to help her. Many would not be so lucky and would have been stuck without a band, without an emcee, without music at their wedding reception.
The fee you pay to an Entertainment Agency for booking and managing your entertainment is so miniscule compared to the peace of mind that is provided when hiring them. Events, such as your wedding, are far too important to leave to chance. Don't underestimate the value of your event entertainment – it truly can be the "make it or break it" aspect of your wedding! Leave it to the professionals like the coordinators at Significant Events and the Entertainment Agencies we work with.