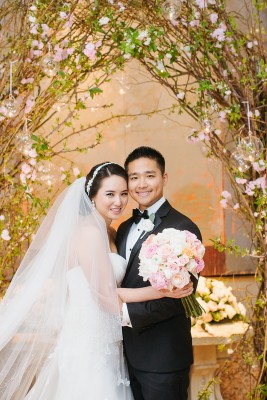 Dallas, TX
Esther and Paul were a lovely Korean couple who contacted Significant Events while living in California to coordinate their Dallas based wedding. A gorgeous boutique hotel was selected for the wedding location, and the couple wanted to ensure that the wedding reflected their design preferences as well as their Korean culture. The ceremony was held in a stunning ballroom surrounded by windows that overlooked a courtyard with a ornate draped ceiling. Bridesmaids wore gray and carried beautiful bouquets of pinks, peaches, and ivories. Our altar backdrop was a breathtaking cherry blossom branch arch. Both mothers wore traditional Korean wedding attire as they processed down the aisle. After the bilingual ceremony, guests proceeded into an amazing ballroom adorned with soft pink uplighting and gold accented ceilings. The cherry blossom arch was repurposed behind Esther and Paul's sweetheart table, and two additional cherry blossom branch arrangements were suspended over the wedding party tables. Candles accented the look from above and below. Gold chairs and taupe linens dressed the guests' tables as did additional lovely floral arrangements in our color palette. A bilingual Korean DJ was flown in from California to ensure that all guests could understand all reception announcements, and this was a huge help. A delicious dinner was served as well as wedding cake and traditional Korean desserts. Guests had a blast on the dance floor as well as in the photo lounge before our sparkler send-off. It was an amazing night!
Esther&Paul Highlight from Youngb Kim on Vimeo.
Photographer YoungB Photography
Testimonial
"My hair and make-up team wer beautiful inside and out! They truly have a gift in what they do! They are incredibly knowledgeable and know how to perfectly apply make-up that will last all day without it looking cakey. They applied make-up with ease and all of us had a great time with them!…..We loved our venue! The food was delicious! I have yet to attend a wedding with better food! Our guests are still talking about how beautiful the venue was!….Our florist put together a gorgeous array of flower arrangements for us! I wanted some changes after seeing the flower mock-up, so I was thankful that my florist called to further communicate what I was looking for! Her approach was professional, and she is a great listener. She loves flowers, and I love her passion and creativity she brings!….The lighting in the reception room really made a huge difference!….We loved our photographer! We cannot say enough about the quality of his pictures and his professionalism. He helped us look good in our pictures by communicating how we should stand. He was patient with our very large family and photographed many great candid moments between our loved ones….….We had an incredible DJ, singer, and MC! We were amazed at his professional approach and ability to start the party while balancing two cultures! He translated with ease and brought together such a fun atmosphere for all of us to enjoy!….Meredith, WE love you! We, meaning Paul and I and our extended family! You did a phenomenal job putting together our special day. We had no worries and were able to enjoy our wedding day! We can't thank you enough for that. Thank you for being patient with us and so timely even when we weren't. Thank you for allowing us to trust you with so many details and executing them beautifully."
Esther Yi
Bride