Most Memorable Moments 2011
December 30, 2011
2013 Most Memorable Moments!
December 29, 2013
Whew! What a great year 2012 has been! With 55 events under our belts in 2012, we have had our busiest year ever and have made some wonderful memories. Here are our faves!
MOST MEMORABLE BRIDAL GOWN: ADRYAN'S GOWN (by Romona Keveza)

Oh, how we loved Adryan's chic and stunning Romona Keveza gown! The short fitted dress with dramatic side train was absolutely perfect for the look and feel of Adryan's wedding. So few brides could pull this look off, but Adryan looked fabulous!
MOST MEMORABLE BRIDAL SECOND/PARTY DRESS: JORDAN'S DRESS (by Bebe)

What a fun and flirty party dress Jordan selected after spending her ceremony in her beautiful lace gown. The dress was the perfect complement to the adorable choreographed routine she and husband Taylor performed for their guests!
MOST MEMORABLE BRIDESMAIDS' DRESSES: LINDSEY'S BRIDESMAIDS (from Brides by Demetrios)

Lindsey's bridesmaids started the day in these adorable embroidered matching robes before changing into their lovely Celadon summer dresses. It was our only wedding this year that used this color, and it looked perfect with the soft pink and green bouquets from The Lily Pad! And check out that fabulous hair and make-up from AW Wedding Hair!
MOST MEMORABLE GROOM/GROOMSMEN ATTIRE: JUSTIN & HIS GROOMSMEN

We loved these casual but stylish ensembles that Justin & his groomsmen wore for the wedding! And our graphic designer groom Justin even designed custom undershirts for them to wear which matched the wedding logo. So fun!
MOST MEMORABLE HAIR & MAKE-UP: CHI RO WEDDINGS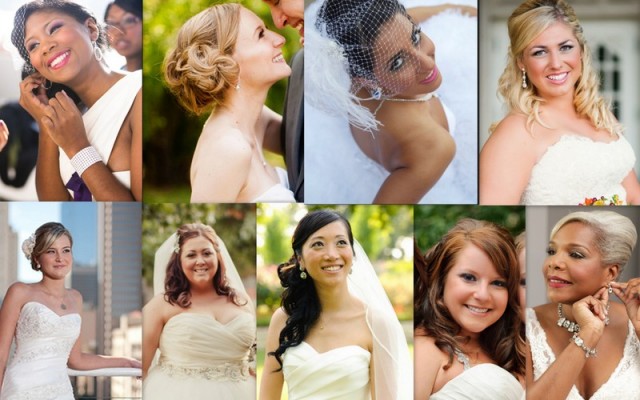 Courtney Phillips and her team at Chi Ro Weddings helped make so many of our brides and their attendants look amazing this year! We loved seeing all of the different styles they created for each wedding, and check out how glamorous our brides Michele, Claire, Kris, Samareh, Cynthia, Megan, Adryan, Shannon, and Jenny look here!
MOST MEMORABLE EVENT DESIGN: JENNY & ROB'S WEDDING (Beyond, Fun Factory Events, Out of the Garden, TLC Event Rentals, & Westin Galleria)

Oh my goodness, we will never forget this wedding! Jenny & Rob wanted the design of their wedding to be reminiscient of the chic style of the 1960's and, in particular, their favorite t.v. show Mad Men and we designed and carried that look throughout the event from start to finish. Jenny's bridesmaids wore custom made dresses in a 60's silhouette, and the groomsmen wore suits and 60's skinny ties. The ballroom at the Westin Galleria was transformed into a sexy 1960's supper club through the lighting and stage backdrop from Beyond, the crushed shimmer taupe linens and chairs from TLC Event Rentals, the beautifully designed floral from Out of the Garden, and the custom made table lamps from Fun Factory Events. Each table was named after a character from Mad Men, and guests arrived dressed in fun attire from that period. Our band dressed the part as well and sang many songs of that era. Photobooth props included Mad Men themed costumes, and our groom's cake had a design of Jenny & Rob in that likeness as well. A fun surprise for guests were late night snacks of candy cigarettes and honey roasted peanuts served in Pan Am designed peanut bags distributed by sexy Pan Am flight attendants! And, of course, the entire evening was captured and edited by the talented photographer Shaun Menary who put his own 60's edge on the photos to boot! Such a memorable event design!
MOST MEMORABLE D.I.Y. DESIGN: SHANNON & SAM'S WEDDING

Our bride Shannon did such a fabulous jobs with all of the D.I.Y. elements of her stylish vintage wedding! She and her family created the patterned and logoed programs and brought in several furniture pieces for special tables as well as all of the vintage jars that served as the backdrop for the altar. They also put together the "quilt" guestbook and the adorable signage that hung overhead. In fact, signage created by Shannon was placed in all areas of the wedding to tie the overall look together. Finally, guests departed with a jar of homemade honey butter with chevron fabric lids that Shannon created herself as well. It was truly a design she could be proud of!
MOST MEMORABLE BOUQUETS: LUSH COUTURE FLORAL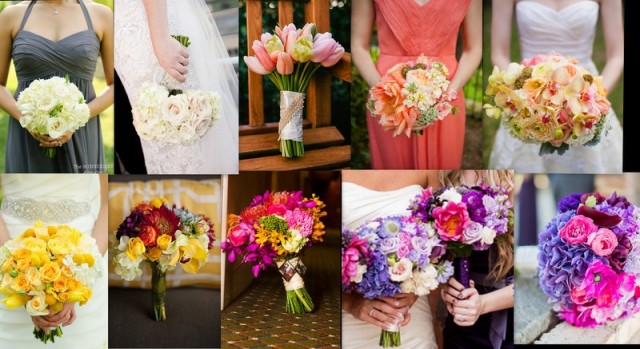 It has been a year of beautiful and creative bouquets from Lush Couture in every color of the rainbow, bringing tears to the eyes of our brides when they received them! Shown here are the bouquets from the weddings of Michele, Allison N., Allison H., Claire, Shannon, Alicia, Erica, and Amanda!

MOST MEMORABLE LARGE SCALE FLORAL PIECES: THE WILDFLOWER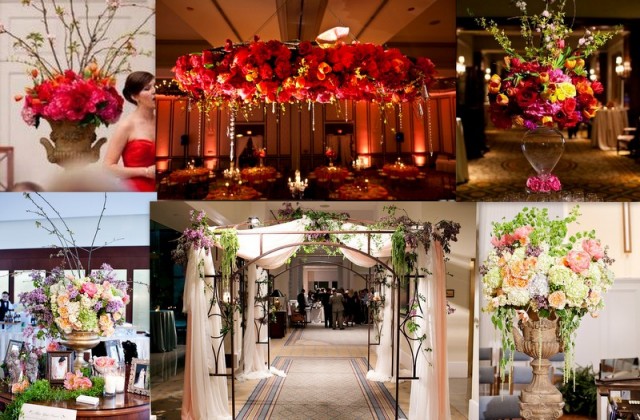 Check out these incredible pieces from The Wildflower! From grand altar and entry pieces to a dance floor floral halo to a gazebo covered in floral right inside of our venue, The Wildflower pulled out all the stops for the weddings of Jennifer & Mark and Kady & Brian!
MOST MEMORABLE CENTERPIECES: LUSH COUTURE FLORAL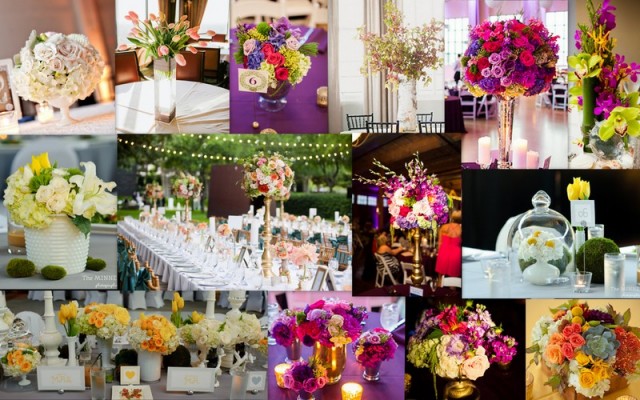 It was a year of jaw-dropping centerpieces from Lush Couture Floral. Our guests and clients were in awe of the stunning designs, and we can't wait to see what Lush's designer Deitra Butler comes up with next year! Shown here are the centerpieces from the weddings of Michele & Jeff, Allison & Sean, Allison & Jay, Claire & Jeremy, Shannon, & Sam, Alicia & Mike, Erica & Taslow, and Amanda & Drew.
MOST MEMORABLE LINENS: KATHY & ALEX'S WEDDING (Wildflower Linens & BBJ Linens)

We were in love with these absolutely stunning linens for the magenta and silver/gray color palette for Kathy and Alex's wedding! All tables were covered in an elegant Silver Shantung linen and napkin from BBJ Linens who also provided the darker grey Twist linens for cocktail hour. For some extra fabulousness, we added the ruffled beauties from Wildflower Linens with a ruffled table runner on the head table, sheer curly chair covers that really made that table stand out, and a custom ruffled piece for the cake table. Everything was just gorgeous paired with the amazing floral from Bella Flora!
MOST MEMORABLE TABLETOP DESIGN: YONG & STAN'S WEDDING (TLC Event Rentals & Expressions of Decor)

Loved these gorgeous tables for Yong & Stan's wedding with floral by Expressions of Decor and all linens, chargers, glassware, and napkins from TLC Event Rentals. The mixture of purples and golds went together beautifully!
MOST MEMORABLE LIGHTING: BEYOND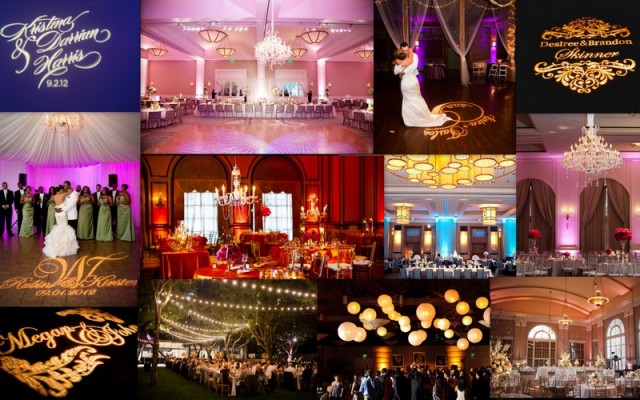 We had so many amazing events with lighting experts Beyond this year, that it would be impossible to feature them all, but here are some of our favorites! They always help transform any venue into a breathtaking thing to see, and we have been so fortunate to work with their team so much this year!
MOST MEMORABLE EVENT TECHNOLOGY: LED WALL FROM ONSTAGE SYSTEMS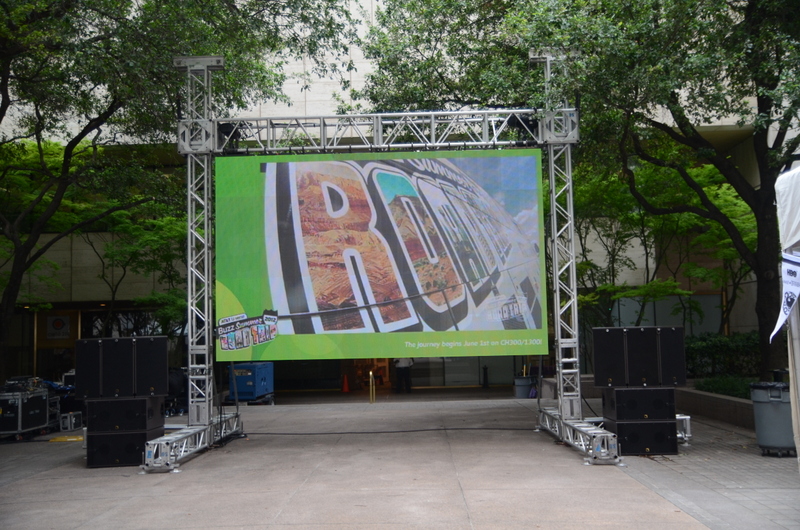 For the AT&T Summer Road Trip Series here in Dallas, we worked with AT&T and their production company Digital Kitchen to create an open air showcase for their networks to impress AT&T employees. The clients also needed to project video onto a screen in the middle of the day and, to accomplish this, we enlisted the help of OnStage Systems who rented us their fantastic LED wall. It was a hit and employees got to see a preview of some of UVerse's best new shows!
MOST MEMORABLE BRIDE'S CAKES: CREME DE LA CREME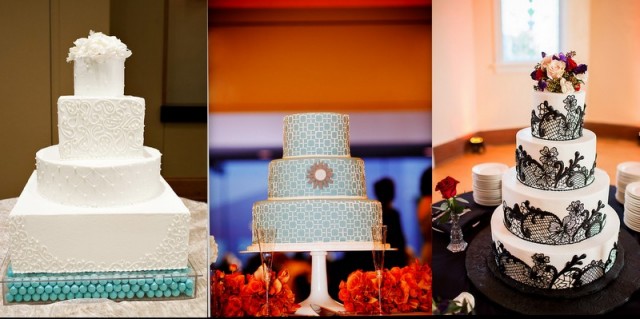 We loved these beautiful and creative cakes for our brides from Creme de la Creme! Cortney & Jake's classic white wedding cake with the fun addition of paisley detailing carried the paisley motif of the wedding into the cake design. This was done as well with the awesome black lace work for the red & black lace design of Rachel & Nicki's wedding. Finally, we loved the modern and intricate design of the blue and white cake for Carly & John's wedding!
MOST MEMORABLE GROOM'S CAKE: FANCY CAKES BY LAUREN

Most memorable groom's cake EVER! The guests and our staff were completely blown away by the sculpture and artistry of this Harry Potter sorting hat cake from Fancy Cakes for Jennifer & Mark's wedding. It came complete with a fondant replica of The Quibbler with the couple's picture on the cover as well. We hated to cut into this magical creation!
MOST MEMORABLE INVITATIONS & GRAPHIC DESIGN: AMANDA & DREW'S INVITATIONS FROM SIGNIFICANTLY SAID!

We were in love with this elegant and charming invitations that we created for Amanda & Drew's wedding through our invitation line: Significantly Said. The purple and green color schemed paired with the vintage and Southern touches of damask and lace fit their wedding perfectly, and our bride told us she received so many compliments from guests! We carried this design into their programs, table numbers, table assignment poster, and even labels for their candy buffet!
MOST MEMORABLE CEREMONY VENUE: CHRIST THE KING CATHOLIC CHURCH


We were fortunate enough to do three weddings this year at the beautiful Christ the King Catholic Church in Dallas as our couples Allison & Jay, Kathy & Alex, and Desiree & Brandon all tied the knot there! We always love the photos we get from this breathtaking sanctuary and working with their stellar wedding coordinator Colleen Harkins!
MOST MEMORABLE RECEPTION VENUE: THE ROOM ON MAIN


We have had some wonderful events at the Room on Main this year including Allison & Sean's Wedding, Carly & Mark's Wedding, and Shannon & Sam's Wedding, and more to come in 2013! We love the venue's size and neutral palette! The prices are affordable and the food by CN Catering is wonderful! It is a beautiful venue that can accomodate a large variety of events!
MOST MEMORABLE ENGAGEMENT PHOTOS: SHAUN MENARY PHOTOGRAPHY (JENNY & ROB'S ENGAGEMENTS)

I don't know if we could have loved Jenny & Rob's engagement photos more, styled and captured by the talented Shaun Menary. This was the first preview of the 1960's/Mad Men theme for Jenny & Rob's wedding, and it was communicated so brilliantly through these images! We all went crazy over them when we saw them! Great work, Shaun!
MOST MEMORABLE BRIDAL PORTRAITS: TAYLOR ABBEY PHOTOGRAPHY

Taylor Abbey created some amazing bridal portraits of our beautiful brides Erica & Amanda this year. We enlarged these images to have in place at their respective receptions, and the guests gasped at the lovely images. And check out those purple & fuchsia bouquets from Lush Couture Floral!
MOST MEMORABLE WEDDING PORTRAITS: ALLISON DAVIS PHOTOGRAPHY

Such beautiful moments of love captured by the wonderful Allison Davis and her ability to pose and capture the memories that our couples like Alicia & Mike, Claire & Jeremy, Trish & Steve, Adryan & Kortney, and Megan & John are sure to cherish for years to come. We are always so happy with the lovely work Allison produces for our clients!
MOST MEMORABLE CANDID IMAGES: THE MINNERICKS PHOTOGRAPHY

We always love the incredible candid images we receive from Jeremy & Amber Minnerick who have the ability to capture some of the most beautiful moments of a wedding that the bride and groom don't even realize are happening. Their work truly captures the emotions and special moments of the day. We were lucky to work with them this year on the weddings of Michele & Jeff and Kris & Billy!
MOST MEMORABLE VIDEOGRAPHY: JOHN CHRISTOPHER WEDDING FILMS

Just over a year ago, photographer John Livas started the video division of his company, and we have loved working with him ever since in this new medium! He has made tremendous strides in this last year and his films of Yong & Stan, Kristina & Darriun, Paris & Lotan, and Vi & Joseph were our favorites of the year!
MOST MEMORABLE DJ'S: LEFORCE ENTERTAINMENT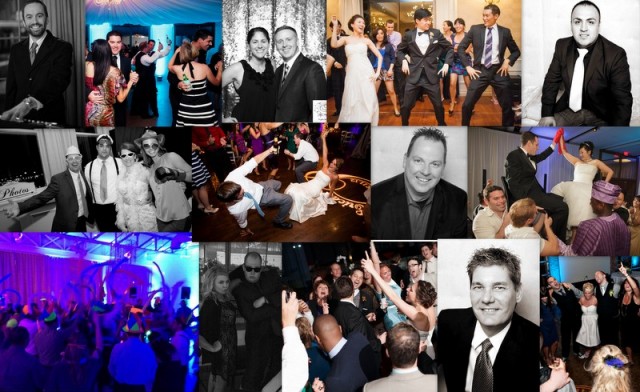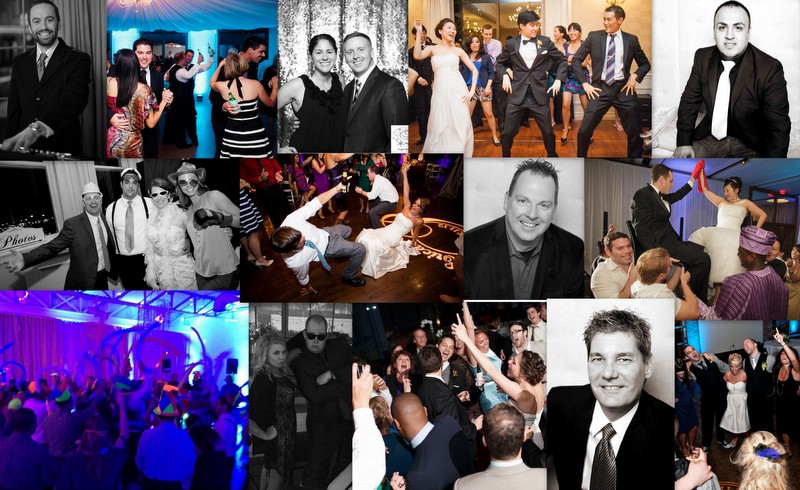 We have just had a TON of fun weddings with the guys at LeForce Entertainment this year, and the party has been great every time! We loved getting the chance to work with Glenn, Ed, Cratin, Adam, Robert, Gus, Chris and Mike in 2012, not to mention Jen, James, Cory, and Cameron with LeForce's photobooth & photostation. Thanks for always taking such great care of our events, guys!
MOST MEMORABLE PARTY BAND: DOWNTOWN FEVER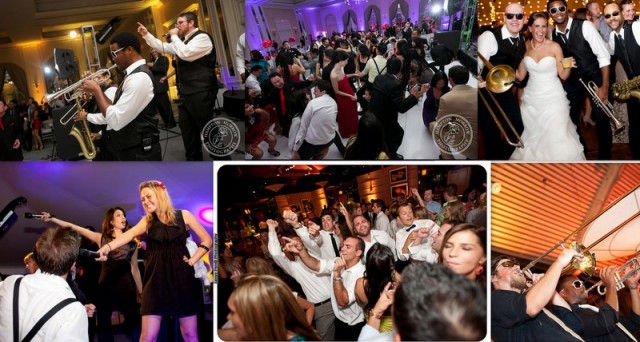 We had the chance to work with Downtown Fever three times this year, and they brought the party and kept the dance floor packed at the weddings of Katie & Nick, Kathy & Alex, and Whitney & Patrick! They always help make our receptions a blast!
MOST MEMORABLE ENTERTAINMENT ACT: JOU JOU & DREW'S BELLY DANCER (CORY CHILSON)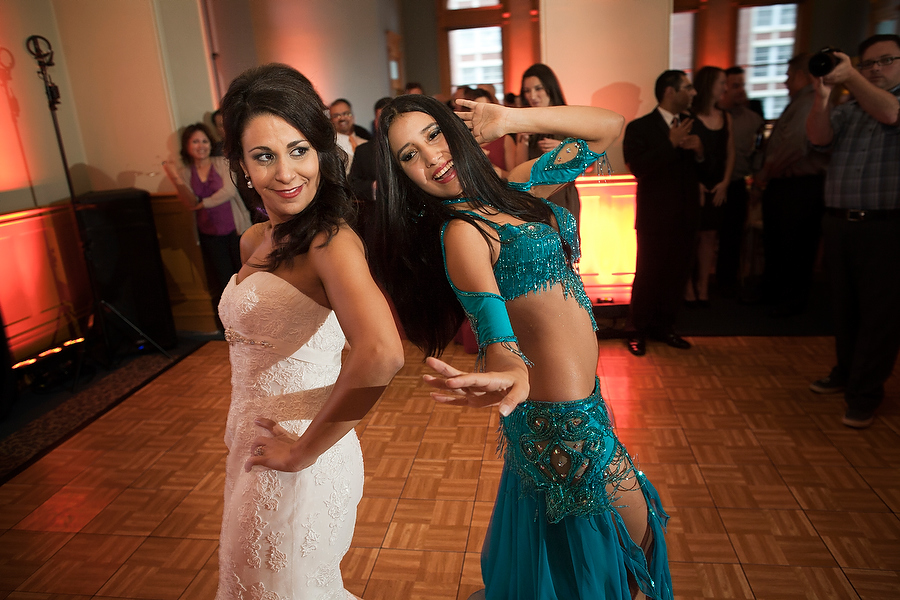 For our Palestinian bride Jou Jou and her groom Drew, we had Cory Chilson, a gorgeous local belly dancer, perform during the reception and also entertain guests! It was a huge hit, and guests had so much fun dancing with Cory all night!
MOST MEMORABLE CEREMONY MUSIC: SERENATA STRINGS

Serenata Strings has brought beautiful music to so many of our wedding ceremonies this year whether it's in the form of a solo harpist or pianist or a melodic string quartet. We always love hearing them providing the soundtrack to our clients' ceremony memories!
MOST MEMORABLE CATERING: CN CATERING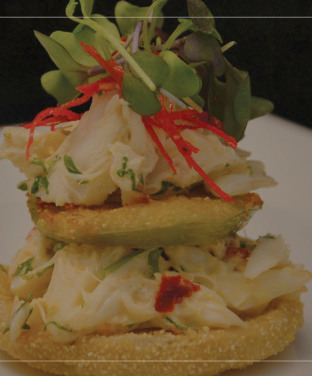 From passed heavy hors d'ourves to fun food stations to classic buffets and elegant plated dinners, we have had some delicious food from CN Catering this year both at the Room on Main for the weddings of Allison & Sean, Carly & Mark, and Shannon & Sam, and also off premise for Amanda & Drew and Vi & Joseph's weddings. We can't wait to taste more of their great food in the future and work with their professional and helpful staff!
MOST MEMORABLE CATERING INNOVATION: ADULT SNO CONE STATION FROM WENDY KRISPIN CATERING

Michele & Jeff's guests absolutely loved these tasty and innovative adult drinks from Wendy Krispin Catering! A shaved ice machine was brought in, and then guests could choose from the flavors: Orange & Vanilla Vodka; Pink Grapefruit, Elderflower, Basil, & Gin; Fresh Cherry, Jalapeno, & Bourbon; and Chocolate Vodka & Cream. A yummy and fun treat for guests!
MOST MEMORABLE FAVOR: KADY'S CHARITABLE DONATION

Our bride Kady is a miracle. She spent much of her childhood at Texas Children's Hospital's "Heart Place." At the hospital, the sick children were taken around the hospital in wagons, so in lieu of a favor, Kady's family made a donation to Heart Place in the guests' honor in order to purchase more wagons. So, we brought one of the wagons to the wedding and filled it with floral from The Wildflower and signage from Significantly Said. Guests were very moved by the touching sentiment!
MOST MEMORABLE WEDDING OFFICIANTS: LOVE NOTES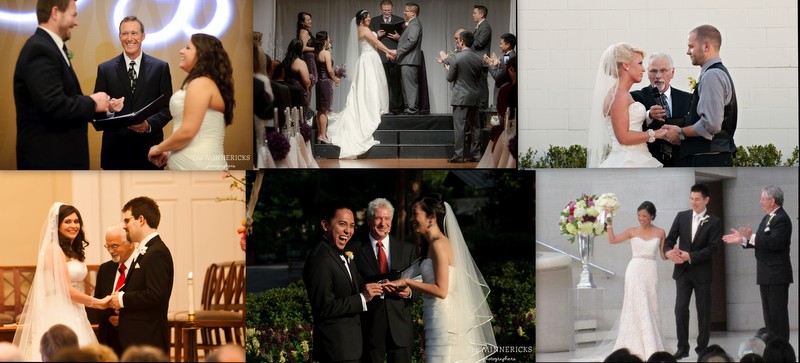 Our couples are always in wonderful hands with the team from Love Notes. We enjoyed working with Marty on the weddings of Ashley & Justin and Jennifer & Mark, with Randy for Wendy & Brian, with Bill for Kris & Billy, with Chris for Michele & Jeff, and with Ken for Vi & Joseph! Thanks for always making the ceremony planning process so easy for all of us, Love Notes!
MOST MEMORABLE SPECIAL MOMENT: ALLEN & JASON'S CEREMONY AT CARR CHAPEL AT TEXAS CHRISTIAN UNIVERSITY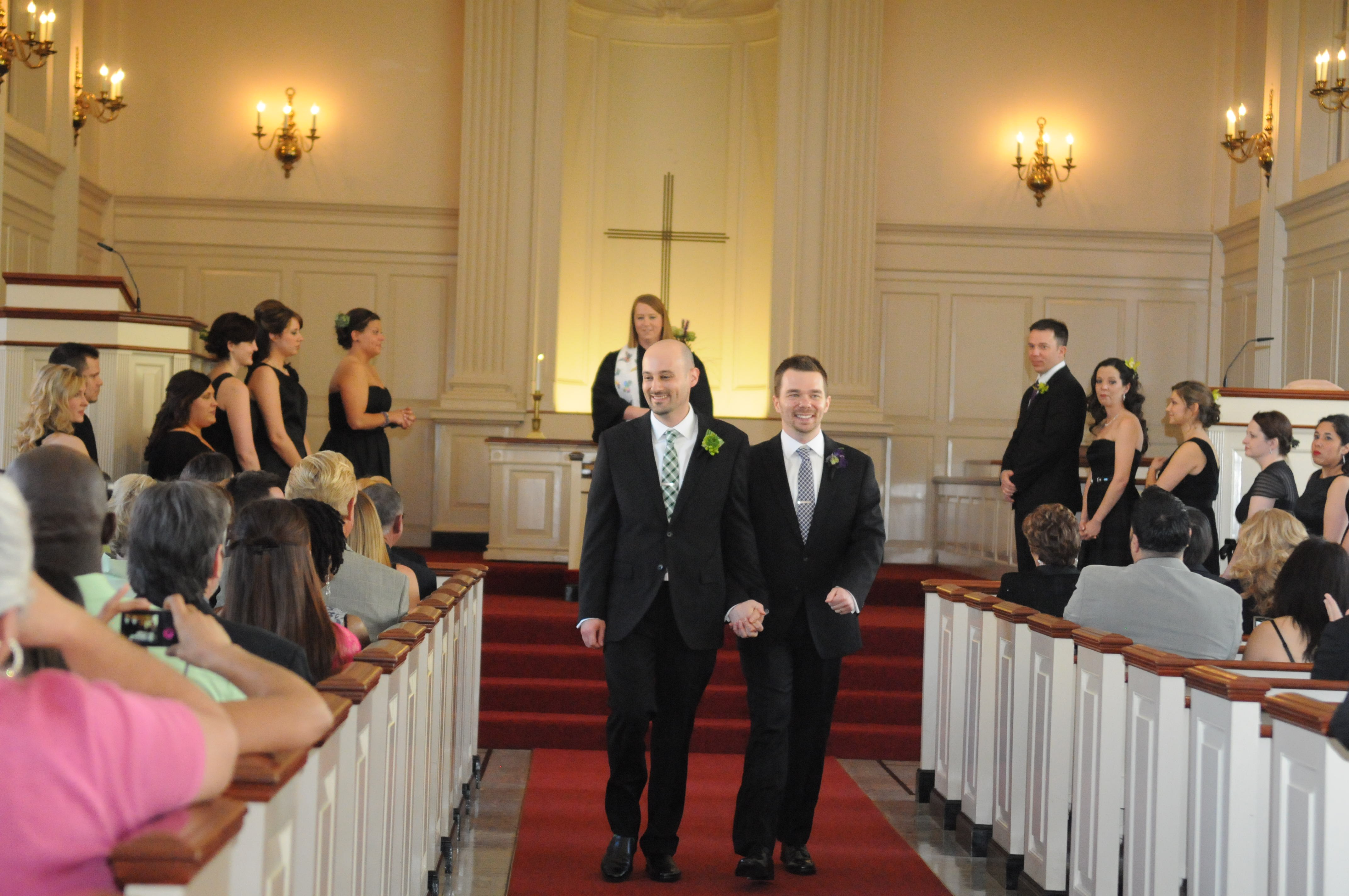 We were so proud to have coordinated the wedding of Jason & Allen – the first gay wedding ever held in Carr Chapel on the TCU campus. Jason was a TCU graduate, so the ceremony location held even that much more significance for him. It was wonderful to be part of the celebration of love for this awesome couple!
We cannot express enough love and gratitude to you, all of our amazing vendors and clients, for providing us with these incredible memories in 2012. Happy Holidays, and cheers to an even better 2013!
Love,
Meredith, Elizabeth, Kelli, Sara, and Callie!