Most Memorable Moments 2010
December 28, 2010
2012 Most Memorable Moments!
December 19, 2012
2011 has been our best year ever at Significant Events! With 40 events under our belts for 2011, it has truly been a year of amazing events and amazing growth! We have made so many fabulous memories and have worked with incredible vendors that it was so difficult to choose our favorites for this year, but here they are!
MOST MEMORABLE BRIDAL GOWN: AMANDA'S GOWN (MOCKINGBIRD BRIDAL)

We just loved Amanda's gorgeous gown from Mockingbird Bridal. The dramatic yet simple layers of stacked lace fit her perfectly and looked stunning with her classic pearls and low chignon hairstyle.
MOST MEMORABLE BRIDESMAIDS' GOWNS: JENNY'S BRIDESMAIDS

Charcoal Gray was definitely one of the signature wedding colors for 2011, and we loved how Jenny incorporated this color in her stylish bridesmaids dresses. The color paired perfectly with the fuchsia and green bouquets from Out of the Garden!
MOST MEMORABLE HAIR & MAKE-UP: NATALIE (PURE COLOUR)

Pure Colour provided the hair and make-up styling for Natalie's wedding, and the result was simply stunning! Her flawless make-up and elegant and interesting up-do perfectly complimented her incredible sweetheart gown. She looked so beautiful and guests could not stop gushing!
MOST MEMORABLE BRIDAL BOUQUET: BETH'S BOUQUET (LUSH COUTURE FLORAL)

Dare I say, my favorite bouquet of all time? I literally gasped when I saw the innovation and creativity in this bouquet from Lush Couture Floral. It was breathtaking and went perfectly with Beth's overall design. And apparently the press has loved it too, as this wedding has been featured in numerous blogs and magazines!
MOST MEMORABLE BRIDESMAID BOUQUET: JORDANA'S BRIDESMAID'S BOUQUET (THE LILY PAD FLOWERS)

Loved this vibrant bouquet from The Lily Pad. The deep fuchsia garden roses, rich purple orchids, and green tea leaves looked so lovely against the eggplant bridesmaid's dresses. It was the perfect example of using fuchsia in a sophisticated and complementary manner.
MOST MEMORABLE CENTERPIECES: KRISTN & TYSON'S CENTERPIECES (LAVENDER FLORAL – SONOMA, CA)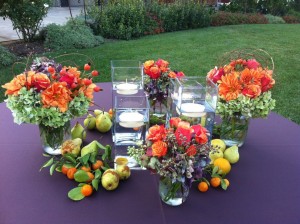 It's always nerve-wracking working with a vendor you have never worked with before, especially thousands of miles away for a destination wedding, but Lavender Floral of Sonoma, CA did not disappoint. All of the flowers for the wedding were gorgeous, but the centerpieces were our faves! The rich oranges and greens were the perfect choice for a fall wedding and the variety of flowers used in these groupings were so fitting for this couple. Against the chocolate brown linens the flowers really popped, and the inclusion of local, organic fruit was a wonderful touch as well to celebrate this couple's love of fine foods and the abundance of fresh produce found locally in Wine Country.
MOST MEMORABLE ALTAR PIECES: RAE & MATT'S WEDDING (OUT OF THE GARDEN)

Out of the Garden completely transformed the YWCA for Rae & Matt's winter wedding with stunning arrangements of whites, greens, and golds as seen here with the magnificent altar piece which formed a frame around our couple. Soft candlelight made the room glow as well and the design continued all the way up the stairs into the beautiful ballroom with more wondrous white arrangements from Out of the Garden!
MOST MEMORABLE WEDDING CAKE: BECKY'S CAKE (PANINI BAKERY & FETE DES FLEURS)

Such an elegant cake from Panini Bakery made even more beautiful by the soft and lush cake flowers from Fete des Fleurs. It was truly a cake design that reflected our bride, Becky, and tasted as good as it looked thanks to Panini Bakery!
MOST MEMORABLE GROOM'S CAKE: CHARLIE'S CAKE (OPULENT CAKES)

What a fun cake for our 6'8″ volleyball playing groom! And, of course, the whole thing was edible from the cake filled Wilson volleyball to the graham cracker crumb "sand" below! The guests loved it!
MOST MEMORABLE PARTY CAKE: DAVE'S BIRTHDAY CAKE (SWEET ART BAKERY)

"All You Need is Dave!" was the slogan for this fab surprise 50th birthday party with a Beatles theme. This cake created for the party by Sweet Art Bakery could not have been more perfect! It was a great centerpiece for our dessert buffet table!
MOST MEMORABLE LINENS: REBECCA & TOM'S LINENS (BBJ LINEN)

Federal Blue Damask linens from BBJ were a luxury item for Rebecca and Tom, but we were all so glad that we decided on this splurge! The linens looked so elegant especially when paired with the buttercream, ivory, and silver centerpieces from Lush Couture Floral. Such a regal look!
MOST MEMORABLE INVITATIONS: BECKY & LUCAS'S INVITATIONS (SIGNIFICANTLY SAID – INVITATIONS BY SIGNIFICANT EVENTS)

The invitation is the first example your guests have of the event to come, and no invitation could have set the tone better for Becky and Lucas's classic black and white wedding than this beautiful ensemble by Significantly Said. The couple loved it so much that Lucas had the invitations mounted in a shadowbox and presented to Becky at the reception as a wedding gift!
MOST MEMORABLE DALLAS VENUE: EM THE VENUE (ROBIN & ANDY'S WEDDING)

We will never forget the wedding of Robin & Andy and how we were the first wedding ever at the brand spanking new eM the Venue. Robin booked the venue while it was a still construction shell based on nothing more than artistic renderings. Fingers crossed that it would be done in time, and it came down to the wire. A week prior to the wedding, construction was still happening around the clock, and Robin and I were biting our nails with nervousness, but we were assured by owners Marc DePetris and Jason Mast that the project would be completed in time. Literally the morning of the wedding, construction crews were putting the finishing touches on the venue, but the result could not have been more beautiful. When Robin walked into the space on her wedding day, she burst into tears seeing what a transformation had occurred. It was truly a celebration that evening for all involved!
MOST MEMORABLE DESTINATION VENUE: CORNERSTONE GARDENS – SONOMA, CA (KRISTN & TYSON'S WEDDING)

2011 marked our first year of destination weddings, and we could not have been happier with our experience at the gorgeous Cornerstone Gardens in Sonoma, CA for Kristn & Tyson's wedding. The venue was the perfect fit for this couple, and besides being set amongst the vibrant vineyards of California Wine Country, the venue harbors a beautiful dining tent for dinner as well as a quintessential California barn for the reception. We were blessed with good weather that evening as well as the ability to use all spaces and even take photos with some of the unique and innovative art on the property.
MOST MEMORABLE BRIDAL PORTRAIT: BECKY'S BRIDAL PORTRAIT (ALLISON DAVIS PHOTOGRAPHY)

This stunning portrait of Becky was captured by the talented Allison Davis at the lovely Four Seasons Hotel in Las Colinas. We loved the reflection of Becky on the floor as well as Becky's chic pose. A large print of this portrait at the wedding reception had guests oohing and ahhing!
MOST MEMORABLE WEDDING PORTRAIT: BETH & SCOTT'S PORTRAIT (SIMPLE MOMENTS PHOTOGRAPHY)

This classic moment captured by Simple Moments Photography looked like something right out of an Old Hollywood movie set. With the beautiful First United Methodist Church functioning as the backdrop and some excellent processing by Simple Moments, Beth & Scott have an image they will surely cherish forever!
MOST MEMORABLE CANDID IMAGE: SONYA & BRIAN'S FIRST KISS (SWEET CAROLINE PHOTOGRAPHY – AUSTIN, TX)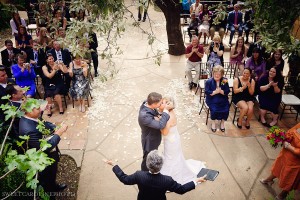 For another one of our destination weddings in Fredericksburg, TX, we were privileged to work with the talented Sweet Caroline Photography out of Austin. With many interesting places to capture images at Sonya & Brian's venue, La Trois Estate, Caroline was able to capture this wonderful moment from above. I love the body language of the minister as the couple shares their first kiss surrounded by smiling guests. Such a beautiful setting and such a priceless photo!
MOST MEMORABLE LIGHTING: DAVE'S 50TH BIRTHDAY PARTY (BEYOND)

For Dave's 50th birthday party with a Beatles theme and a red, yellow, and brown color scheme to emulate the Beatles LOVE logo from their famed Vegas show, the team at Beyond transformed a stark white industrial space into a fun and colorful representation of our theme! Guests were so impressed to see the room so transformed by lighting and to see how lighting can become an essential decor element. Great party with great lighting!
MOST MEMORABLE DJ/PARTY EXPERIENCE: SARAH & KANE'S WEDDING (GLENN ROUSH ENTERTAINMENT)

This wedding could not have been more fun! The evening started off with a bang with our DJ Glenn Roush doing fun intros with the wedding party that had all of the guests laughing hysterically and the party continued all night long as Glenn got the guests onto the dance floor and kept them there for 3 straight hours. Such a blast!
MOST MEMORABLE LIVE ENTERTAINMENT: IDENTITY THEFT (ROBIN & ANDY'S WEDDING)

This was our first wedding to do with Identity Theft but we immediately fell in love with their great energy, strong musical skills, and ability to read and react to the crowd. And apparently the wedding guests agreed as they danced for hours and even asked for an encore! We are looking forward to more events with them in 2012!
MOST MEMORABLE FAVOR: MICHELE & BECK'S WEDDING BOOK FAVORS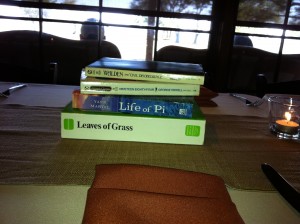 Michele & Beck are both librarians and incorporated their love of books into many aspects of their wedding design. From their "Library Card" Save the Dates to having a published author as their officiant, books abounded but nowhere more meaningfully than with their favors. When Beck & Michele moved in together, they combined their personal libraries and found they had many duplicates. These duplicates formed part of their centerpieces, and guests were instructed to pick a book or two to enjoy in their homes as our brides had in theirs for so many years.
MOST MEMORABLE TRANSPORTATION: ANNIE & DEVIN'S WEDDING (CITY OF MCKINNEY TROLLEY)

With a wedding in the heart of McKinney, there is no better way to transport your guests than with the historic trolley offered by the City of McKinney. Annie & Devin and their wedding party had the best time on the trolley, and we got some great pictures from our photographer Hampton Morrow as well in and with the trolley!
MOST MEMORABLE MEAL: KRISTN & TYSON'S WEDDING (ELAINE BELL CATERING – NAPA, CA)


Hard to beat a meal coming out of Wine Country, and we with thrilled with the options provided by Napa based Elaine Bell Catering for Kristn & Tyson. From our tasting months before the wedding, we all fell in love with this company's options, and guests were delighted with the fresh and delicious meal they received that evening which included: Hors d'ourves of Fresh Live Pickles filled with Chicken Salad, Mini BBQ Pulled Pork Sandwiches with Shoestring Fries, and Provencal Tartlets; Entree of Baby Organic Greens with Feta Cheese, Fresh Cranberries, & Herbed Vinagrette, Tuscan Fulton Valley Chicken Breast and Roasted Marinated Petite Sirloin with Horseradish Scallion Sauce, Green Pea Risotto and Grilled Wine Country Vegetables; and last but not least a dessert of a wedding cake made of wheels of cheese with sides of fresh honeycomb and fig membrillo. My mouth is watering just remembering this fantastic meal!
MOST MEMORABLE EVENT BRANDING: MAGE SOLAR TRADE SHOW AFTER PARTY (SIGNIFICANT EVENTS, FAUXCADES, BEYOND, AND BRAVO! ENTERTAINMENT)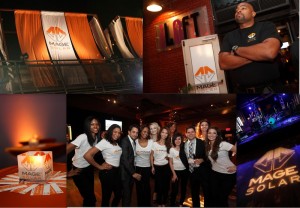 For the after party for a major solar corporation vying for visibility amongst competitors, branding was key! As guests walked up to the venue, they saw the signature colors of the company reflected in a wash of the terrace as well as with multiple Gobo projections and skytracker lights provided by Beyond. Enormous vinyl decals covered windows and doors and even the elevator at every possible turn provided by Fauxcades, Significant Events provided custom branded centerpieces for every table, and last but not least, branded baby tees were donned by a crew of gorgeous girls provided by Bravo! Entertainment who mingled and danced with guests at what became the best party in the entire space!
MOST MEMORABLE EVENT DESIGN: BETH & CHARLIE'S WEDDING (BETH SANDLIN, DEITRA BUTLER, & MEREDITH COMMENDER)

Oh, how we loved this gorgeous design! Beth had a ton of great ideas and a vision of how she wanted the wedding to look down to the tiniest detail. She spent hours crafting many of the DIY pieces herself, and once we enlisted the floral design expertise of Deitra Butler of Lush Couture and the event design experience of Yours Truly, our team effort created an event that was truly beautiful and interesting to view and has already been featured in numerous publications.
So many amazing memories in 2011! We can't wait to see what 2012 will bring! Happy New Year and thank you for allowing us to be part of the most significant events of your life!
Love,
Meredith, Kelli, Elizabeth, and Danielle