Most Memorable Moments 2009
December 24, 2009
Most Memorable Moments 2011
December 30, 2011
2010 has been our best year to date here at Significant Events. With 30 completed events, we are so proud to have been able to partner with so many outstanding vendors and create wonderful memories for all of our beloved clients. It was almost impossible to choose our favorite moments of the year because there were so many great ones, but here they are!
MOST MEMORABLE VENUE: Nasher Sculpture Center (Dallas, TX)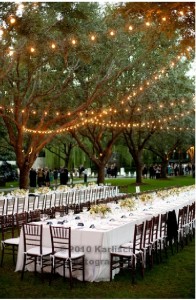 There are few venues in Dallas that I love more than the Nasher Sculpture Center. If you are blessed with good weather, as we were for Lindsay & Dave's wedding, the sculpture garden truly transforms into a magical place in the evening. And when I heard that Lindsay wanted to do long tables instead of rounds and we got to design a gorgeous table of white hemstitch linens from BBJ Linen with gorgeous, fresh "woodland" centerpieces filled with cymbidium orchids from Cebolla Fine Flowers? Swoon. I don't know which one of us loved the look more! (Photo by Stephen Karlisch)
MOST MEMORABLE MEAL: Provided by Gil's Elegant Catering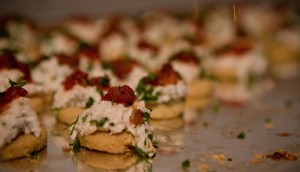 For Michael & Dash's summer wedding in Rosine Hall of the Dallas Arboretum, we were treated to a delicious bevy of food stations provided by Gil's Elegant Catering. The evening began with passed hors d'ourves of Lobster Club Sandwiches, Chicken Salad on Masa Shortbread, and Pork Tenderloin on Sweet Potato Pancakes. Dinner stations consisted of a Kobe Beef Burger Station with Gourmet Potato Chips; a Fondue Station which also included Ahi Tuna, Parma Ham & Asparagus, and Stuffed Cherry Tomatoes; a Carving Station with Roasted Herb Crusted Sirloin and Ricotta & Spinach Stuffed Chicken; and a Three Cheese Macaroni Station with a variety of toppings! My mouth is watering as I type this! (Photo by Jamye Perelli)
MOST MEMORABLE UNIQUE FOOD ITEM: Stephanie's Champagne Snow Cones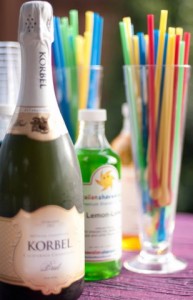 For "Stephanie's Surprise 40th Birthday Spectacular" we pulled out all the stops and created an over the top adult carnival that guests absolutely loved! By far, the favorite food item that night was the Champagne Snow Cones! Simple shaved ice with a variety of snow cone syrups mixed with champagne was a yummy twist on a childhood favorite! (Photo by Hannah Piles)
MOST MEMORABLE EVENT DESIGN: Czars of Vinyl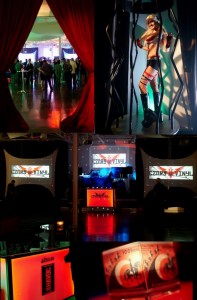 For the launch party of audio/video/DJ company Czars of Vinyl, Significant Events transformed Marc Events into an underground Russian night club. Guests entered the venue to see modern lounge furniture and tables provided by Cort Event Rentals. Cocktail waitresses provided by Jen Caroll Marketing wore Russian snow bunny outfits as they served 42 Below Vodka cocktails. Guests entered the main event space through red velvet draping provided by Quest Drape. More urban furniture from Cort filled the room, and custom made Russian centerpieces created by Significant Events sat on every table. 2 bars provided by Cort with vinyl logos from Shag Carpet flanked either end of the room as did funky Gogo cages provided by M&M Event Rentals. Even the dancers themselves, provided by Jen Carroll Marketing, were part of their decor in their outfits hand selected by Significant Events and branded by Orange Spot Pink Nose. And, of course, no nightclub can be complete without awesome lighting, provided that evening by Beyond. сказочные! (Photos by Phase 3 Photography).
MOST MEMORABLE LIGHTING: provided by Beyond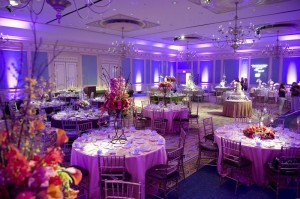 For "A Wedding for All Seasons: An Evening with Sasha Souza," Beyond transformed the Wedgwood Ballroom at the Hilton Anatole Hotel into a truly "seasonal" experience. With the tabletops and centerpieces designed around the 4 seasons and the meal representing the 4 seasons as well, Beyond complemented the entire experience by pinspotting the gorgeous centerpieces from Out of the Garden and using color washes on the wall which gradually changed colors 4 times throughout the evening. The result was beautiful and memorable! (Photo by Nick Mallouf)
MOST MEMORABLE LARGE FLORAL ARRANGEMENT: provided by Out of the Garden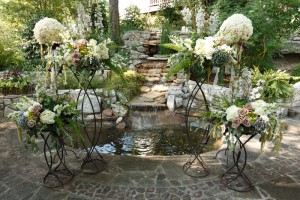 This truly breathtaking altar was created by the amazing designers at Out of the Garden for Sara and Wes's wedding at The Parson's Table in Aledo. Sara said that she had always dreamed of a "flower filled wedding," and, boy, did she get one. Her romantic, country wedding was adorned from top to bottom, from bouquets to centerpieces, from Out of the Garden. It was hard to choose which of their work from that day was my favorite, but this altar arrangement took the cake. Stunning! (Hampton Morrow Photography)
MOST MEMORABLE BRIDAL BOUQUET: created by Bows and Arrows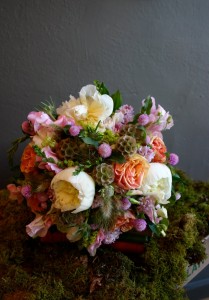 Bows and Arrows created this gorgeous bouquet for Kelly and Devin's wedding, recently featured in D Weddings magazine. Both Kelly and I literally gasped when it was delivered, and it was the perfect bouquet for the Kelly's vintage style and her pale yellow and pink color scheme. Kelly described it as "the most beautiful bouquet she had ever seen." You can't ask for more than that!
MOST MEMORABLE BRIDESMAIDS' BOUQUETS: created by The Urban Blossom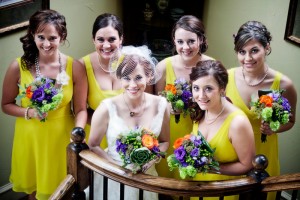 Our vintage and modern bride Amanda loved these Chartreause bridesmaids dresses she selected for her attendants along with their plum colored shoes, and so did we! When paired with the garden party/woodland atmosphere for her and Matt's April wedding ceremony, The Urban Blossom created bouquets that tied everything together and didn't balk at the bold bridesmaids' dress color. The result was perfectly designed perfection! (Photo by Colleen Allison for Capture! Studios)
MOST MEMORABLE CENTERPIECES: created by Out of the Garden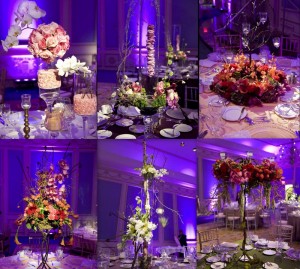 For "A Wedding for All Seasons: An Evening with Sasha Souza," Out of the Garden created a variety of magnificent centerpieces which represented the 4 seasons of the year and flowed seamlessly around the room. Guests were awestruck as they entered the room and saw their incredible work! (Photo by Nick Mallouf)
MOST MEMORABLE WEDDING CAKE: created by Fancy Cakes by Lauren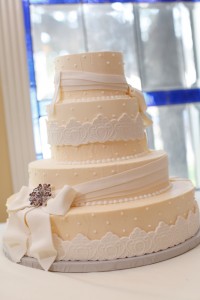 Absolutely loved this masterpiece created by Fancy Cakes by Lauren for Sara and Wes's wedding. The brooches were antiques belonging to Sara's grandmother, and Lauren's lace detailing perfectly matched the "burlap and lace" look we had created for the wedding as well as Sara's beautiful lace gown. And it was a lemon champagne flavor to boot! Mmm mmm. (Hampton Morrow Photography)
MOST MEMORABLE "NON WEDDING" CAKE: created by Sweet Art Bakery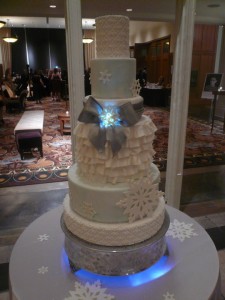 For this year's Sounds of the Season gala benefiting the Dallas Hearing Foundation, all I had to do was tell Sweet Art Bakery my color scheme and theme, and they let the creative juices flow! And the result was this winter wonderland beauty that guests oohed and ahhed at before getting to taste the chocolate mint cake that was contained inside the beautiful artistry of airbrushing, sugary snowflakes, and winter sparkle!
MOST MEMORABLE GRAPHIC DESIGN/BRANDING: created by Orange Spot Pink Nose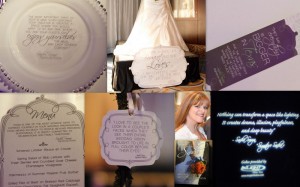 For "A Wedding for All Seasons: An Evening with Sasha Souza," Significant Events used Sasha's book "Signature Sasha" as inspiration for the design and branding. Quotes from the book were selected to describe the different elements of the event, and the creative geniuses at Orange Spot Pink Nose created a beautiful, cohesive design to brand the entire event. From the signs on the runway of the bridal gown models, to the signage adorning the centerpieces and cake table, to the program, to the menu card, to the bookmark party favor, to the vinyl appliques on the chargers that were all the rage, it was truly a great example of the power and artistry of successful branding and design. (Photo by Nick Mallouf)
MOST MEMORABLE BRIDAL GOWN: Lianne Collins Armpriester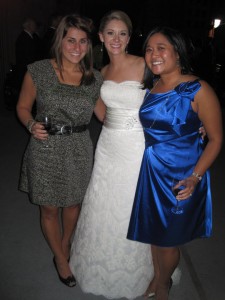 Our fall bride Lianne looked absolutely radiant in her beautiful lace gown with satin and crystal waistband. Her wedding at the Crystal Ballroom in Houston was also a reflection of her elegant style, but Lianne was radiant in this Allure gown (Photos forthcoming by Morgan Lynn Photography).
MOST MEMORABLE BRIDAL PHOTO: Tara Acton Page captured by Dorothy Gautreaux Photography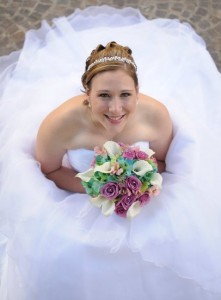 This adorable shot of Tara captured by Dorothy Gautreaux was a perfect tribute to her funloving personality and flowy, princess dress. The colorful bouquet created by Justine's Flowers was a preview of the whimsical, color filled ceremony and reception that we created for her fall wedding at the Dallas Arboretum.
MOST MEMORABLE PHOTO OVERALL: Anna's Dress captured by Lynn Michelle Photography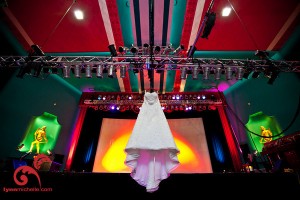 There were many fabulous photos to view from Courts and Anna's wedding at Lakewood Theater, but this was my favorite. Lynn Michelle completely embraced the art deco wonder that is Lakewood Theater and took advantage of the trussing and lighting to capture this incredible image.
MOST MEMORABLE LIVE ENTERTAINMENT: provided by the Texas Ballet Theater School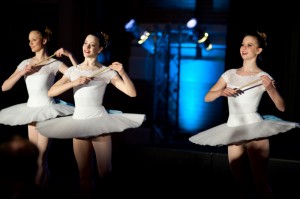 Though this photo is from last year's event, for the second year in a row the Texas Ballet Theater School has graced the stage at Union Station for the Sounds of the Season gala, benefitting the Dallas Hearing Foundation, delighting guests with an amazing and fitting performance from The Nutcracker. This year they performed the "Snow Dance," and it couldn't have been more perfect for our Winter Wonderland theme. Guests rated the entertainment a 10+ on the event survey!
MOST MEMORABLE PARTY ATMOSPHERE: provided by Glenn Roush Productions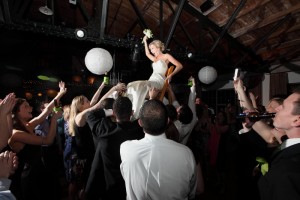 I always tell clients that the key to a great party at your wedding reception is an open bar, dim lighting, and a great DJ or band! Errin and Zach had the magical combination at their wedding reception, as DJ Glenn Roush kept the guests dancing for hours. And not only dancing! Singing arm in arm, serenading Errin, and even hoisting her over their heads in her chair. The look on her face is priceless, and the party continued all night long!
MOST MEMORABLE PARTY FAVOR: Tara & Josh's Calculators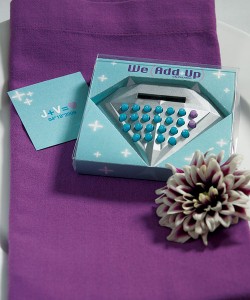 A colorful wedding? Check! Bride and groom are both accountants? Check! Wedding full of fun and whimsy? Check! I couldn't believe I was able to find such a perfect favor for Tara and Josh's wedding. How cute!
MOST MEMORABLE FUN MOMENT: Aviana's Flipbooking Grandparents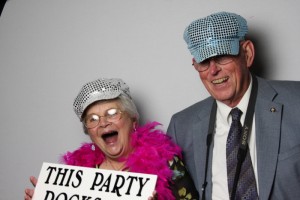 Flipbook stations from PicFlips are always a huge hit at parties and weddings, but I never could have anticipated how much fun guests would have at Aviana's flipbook station at her Sweet 16 at Bridlewood Golf Club. Young and old alike had a blast all night making fun flipbooks and, as you can see, even grandma and grandpa stepped up to the plate! (Laceymarie Photography)
Happy Holidays to you and yours, and we look forward to creating more memorable moments for our 2011 clients! Cheers!