Budget Saving Strategies for Your Event
July 27, 2009
Entertainment Agencies: Your Partner in the Planning!
December 5, 2010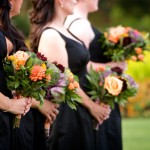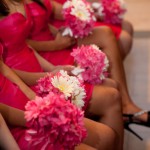 It always surprises me when clients express an interest in using silk flowers for their weddings or events. You may be wondering, is there a financial advantage to using silk flowers over fresh? The answer is no. Here are some common arguments I hear in regards to using silk flowers.
SILK FLOWERS WILL NOT WILT OR TURN BROWN.
While this is true, a skilled florist can treat your flowers and deliver them at the appropriate time to lessen the odds of them wilting. Your florist can also advise you about which types of flowers are most likely to wilt if you are having an outdoor wedding in extremely warm or cold temperatures, where flowers run the risk of freezing.
SILK FLOWERS ARE CHEAPER.
This is a common misconception. In fact, in most instances, silk flowers are more expensive. And then after your event, you are stuck with hundreds of silk flowers that you will never use again.
I WANT TO KEEP MY BRIDAL BOUQUET
Perfectly understandable! Why not have your florist create a replica of your fresh flower bouquet for you to keep as a momento? Then you will have the benefit and beauty of a fresh flower bouquet for the ceremony and a silk bouquet as a keepsake. And, trust me, your bridesmaids are about as interested in preserving their silk flower bouquet as they are in rewearing their bridesmaid's dress (no matter how practical you think that dress is!).
Fresh flowers can increase the elegance and beauty of any event, and silk flowers simply do not provide the same effect!