Most Memorable Moments 2010
December 28, 2010
2009 has been a fantastic year for Significant Events! We successfully completed 24 events for the year and can't wait to see what 2010 will bring! With so many great events to choose from, it was tough to select the Most Memorable Moments, but here they are!
MOST MEMORABLE OUTDOOR VENUE: THE DALLAS ARBORETUM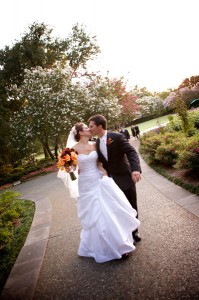 The Jonsson Color Garden at the Dallas Arboretum was the perfect setting for Jessica & Ryan's outdoor ceremony. No additional floral was needed as the Garden provided it's own natural beauty! (Jules & Albie Photography)
MOST MEMORABLE INDOOR VENUE: UNION STATION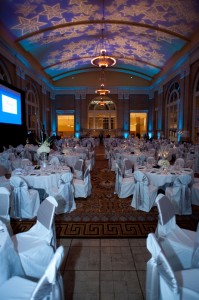 Union Station will take your breath away! In fact, when I showed this room to my client for the Dallas Hearing Foundation's Sounds of the Season gala, she burst into tears at how beautiful it looked! I also have to give props to Lumen Event Lighting for achieving this look on the ceiling! (Vim Studio Photography)
MOST MEMORABLE MEAL: KENT RATHBUN CATERING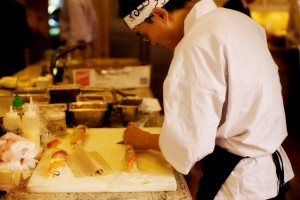 Kent Rathbun Catering provided the delicious meal for Jon & Lisa's wedding. The menu included appetizers of Lobster Scallion Shooters, Thai Corn Battered Shrimp with Honey Soy Sauce, Tempura Vegetables, and sushi rolled on site by a Sushi Chef. Dinner included Baby Arugula Salad with Julienne Pears, Gorgonzola, and White Balsamic Vinaigrette; Garlic-Panko Crusted Chicken Breast and Baby Portobello Mushroom Pan Gravy
Wood Grilled Beef Tenderloin with Marsala Demi Glace with Grilled Asparagus and Smoked Bacon Twice Baked Potatoes. Yum yum! (Allison Davis Photography)
MOST MEMORABLE WEDDING CAKE: created by ELENA'S CAKES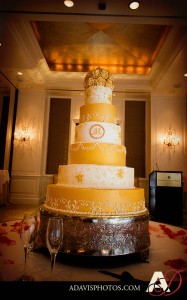 This masterpiece was created by Elena's Cakes for Michael & Louise's wedding, and we made it a centerpiece of the room! Not only was it beautiful to look at but it also tasted great and was their signature flavor: Champagne! (Allison Davis Photography)
MOST MEMORABLE GROOM'S CAKE: created by CANDY HAVEN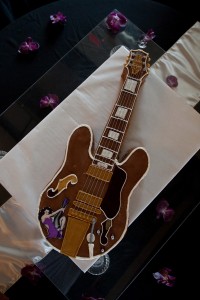 Candy Haven created this fun cake for Chris & Kaitlin's wedding to reflect the groom's rock n' roll lifestyle! I love the Pin Up girl detail! (Ashley Langford Photography)
MOST MEMORABLE LINENS: JULES EVENT DECOR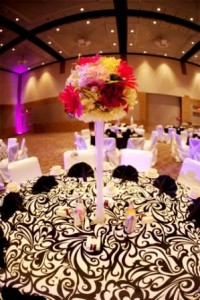 This fun print was custom made by Jules Event Decor for Fred & Ruby's wedding. When paired with the hot pink color scheme, it really made the room come to life and definitely reflected the bride's personality (Sweet Memories Photography).
MOST MEMORABLE DECOR: SIGNIFICANT EVENTS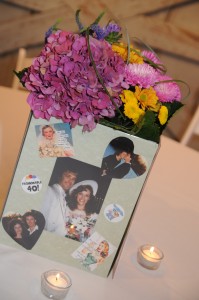 This was not the most expensive decor I did this year, but it was definitely the most fun and, not to toot my own horn, but it was created by Yours Truly! I had a great time custom designing these centerpieces for Cheryl's 40th Birthday Party – each table reflected pictures of one of Cheryl's favorite things. Thanks to Installation Floral for dressing them up! We also incorporated enlarged goofy pictures of Cheryl all over the event space and had Word Bubbles available for guests to leave their own commentary. It was a blast! (Roush Productions Photography)
MOST MEMORABLE TRADITION: CHINESE TEA CEREMONY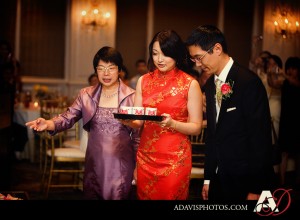 Michael & Louise incorporated the traditional Chinese tea ceremony into their wedding reception. After Louise changed from her white wedding dress into a traditional red Chinese Qi Pao, the parents of the bride and groom were seated in the front of the room, and Michael and Louise served them tea with the help of an aunt who presided over the ceremony. It was very interesting and beautiful to watch! (Allison Davis Photography)
MOST MEMORABLE PARTY ATMOSPHERE: SIMPLY MUSIC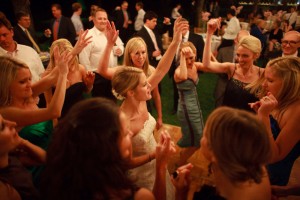 At Jonathan & Lauren's wedding, once the dancing started, it never stopped! This crowd literally shut the venue down, thanks to their DJ Simply Music. One thing the couple did that helps keep the energy up was to provide late night snacks to their guests. Of course, the open bar didn't hurt either! (Joseph Mark Photography)
MOST MEMORABLE LIVE ENTERTAINMENT: provided by ECLIPSE ENTERTAINMENT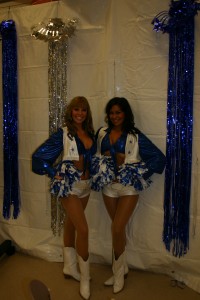 These "Dallas Cowboy Cheerleaders" were provided by Eclipse Entertainment for a corporate initiative celebration for Medco, and they were definitely the life of the party! They kept the crowd excited and posed for numerous photos with them. You'd never know they weren't the real thing!
MOST MEMORABLE DEPARTURE: MICHEL & JULIE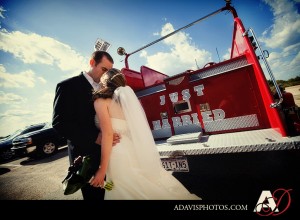 With Michel being a fireman, we couldn't think of a better departure vehicle provided by a friend of the bride's! Michel and Julie hung on the back of the truck as their guests waved them away to their future happiness! Definitely a memorable moment! (Allison Davis Photography)
MOST MEMORABLE BOUQUET: INSTALLATION FLORAL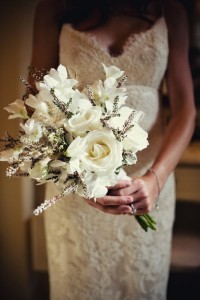 I absolutely loved this bouquet created by Installation Floral for Jon & Lisa's wedding. It was the perfect arrangement for an elegant backyard wedding. It was so natural looking, and Lisa loved it as well! (Allison Davis Photography)
MOST MEMORABLE FLORAL ARRANGEMENT: THE LILY PAD FLOWERS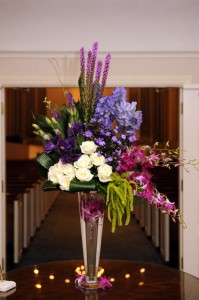 The Lily Pad and I have worked together on numerous events, but this was by far my favorite arrangement they have ever created. It was used at the entry to the church for Jeff & Lara's wedding and guests couldn't get over how beautiful it was. Of course, we moved it to the reception location as well, because I couldn't let this piece go to waste! (Dorothy Gautreaux Photography)
MOST MEMORABLE LIGHTING: ABSOLUTE ENTERTAINMENT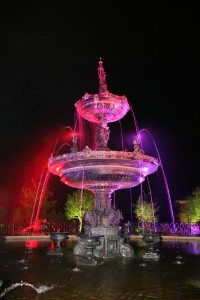 For the second year in a row, Absolute Entertainment provided spectacular lighting at Tucker Hill's "Ghouls on the Lawn," completely transforming the fountain area into a haunted extravaganza illuminated with color, fog, and motion. I always can't wait for the sun to go down to see these lights in action! (Dallas Party Photography).
MOST MEMORABLE GRAPHIC DESIGN: C.E. COLLINS DESIGN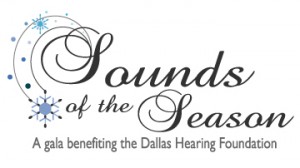 This logo, created by C.E. Collins Design for the Dallas Hearing Foundation's Sounds of the Season gala, was just one piece of the entire graphics package created for this event. Also designed were e-Blasts, Underwriting Packets, formal invitations, and programs. We truly branded the entire event thanks to professional graphic design!
MOST MEMORABLE "DO IT YOURSELF": KEVIN & SARAH'S WEDDING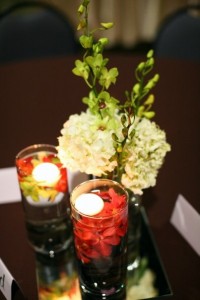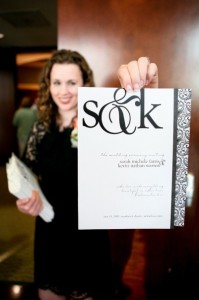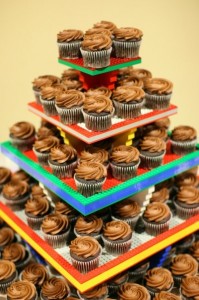 Kevin and Sarah were the king and queen of the "Do It Yourself" wedding, though you would never know it based on how fabulous everything turned out! Sarah created the invitations and the programs, but you never would have known they were not done by a professional graphic designer! Sarah's friends got together and bought wholesale flowers to create the centerpieces, and Kevin showed his engineering side by creating his cupcake tower exclusively with Legos! (Nam Nguyen Photography)
MOST MEMORABLE BRIDAL PHOTO:JULES & ALBIE PHOTOGRAPHY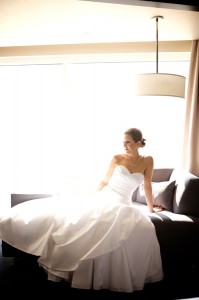 I love how Jules & Albie captured the light for this elegant photo of Jessica. It looks so serene and like something right out of a magazine!
MOST MEMORABLE BRIDE & GROOM PHOTO: JOSEPH MARK PHOTOGRAPHY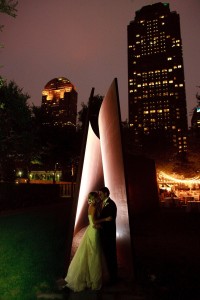 This photo of Jonathan & Lauren by Joseph Mark is probably my favorite photo of the entire year. It was taken at the Nasher Sculpture Garden, and I love how he captured this intimate moment with the sprawling city in the background. Truly an iconic Dallas photo!
MOST MEMORABLE WACKY MOMENT: JEFF & LARA'S WEDDING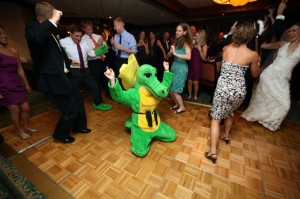 Nothing could have prepared me from this "let's surprise everyone including the wedding coordinator" moment at Jeff & Lara's wedding! Apparantly, it is a tradition that at each one of Jeff's family events someone dresses up in this alligator costume, and the entire family does a choreographed dance, including rolling around on the floor, to "Wipeout." It was totally hilarious, but I had to exclaim, "What the hell is going on?" (Dorothy Gautreaux Photography)
Thanks to everyone who helped to provide me and my clients with these memorable moments! Here's to many more in 2010! Happy Holidays!